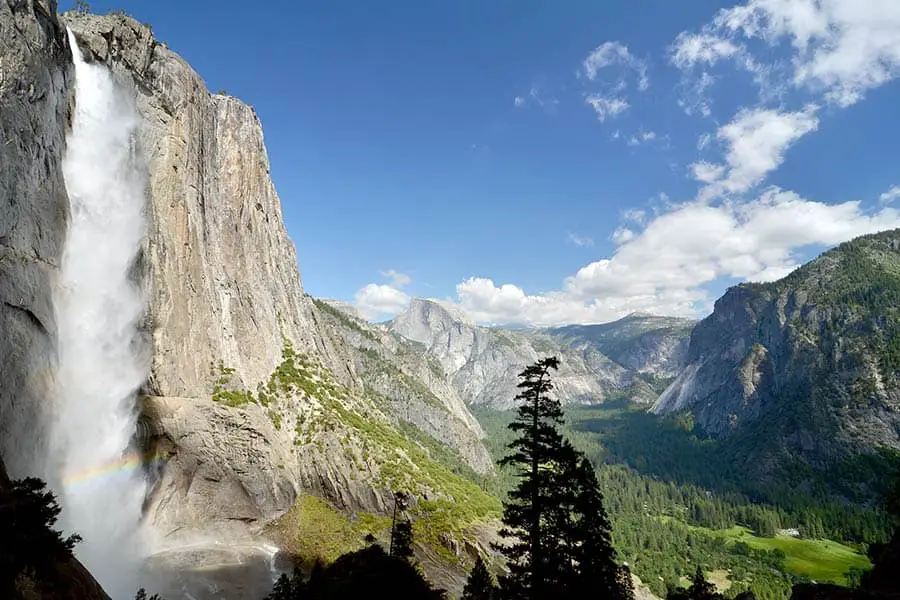 The State of California has some of the most stunning landscapes found anywhere in the world. For this reason, it should come as no surprise that California is home to nine different national parks. Each offers unique climates, scenery, flora, and fauna to experience. Two of the most popular destinations with tourists are Redwood National Park and Yosemite National Park. So, you might be wondering, which park is better?
Between Yosemite and Redwood National Park, Yosemite is the most visited park in the state. Yosemite offers stunning views of granite cliffs, waterfalls, and giant sequoia groves. Redwood National Park has ancient groves of trees and access to the gorgeous Pacific Coastline and is less crowded.
If you are planning to visit the outdoor spaces of California, you should consider adding one of these parks to your itinerary. Continue reading for more information about each park, how they are unique, and the best time of year to visit.
Yosemite or Redwood National Park – Which Should You Visit?
Yosemite National Park is located in the eastern part of California; and it's nestled between Sierra National Forest and Stanislaus National Forest and covers over 750,000 square miles. Yosemite is most known for its massive granite rock formations, waterfalls, sequoia groves, meadows, and lakes.
Redwood National Park is situated along the Pacific Coast between San Francisco and the Oregon border. This park features ancient temperate rainforests full of redwood trees, with many of these old trees reaching unprecedented heights. (like Hyperion, which stands 379 feet and is the tallest living tree in the world). The park is 139,000 acres with nearly 40,000 acres of redwood forests.
The better scenery is a toss-up between the two parks. Each is special in its own way. On the one hand, Yosemite has massive cliff faces, views of the Sierra Nevada range, meadows, and waterfalls.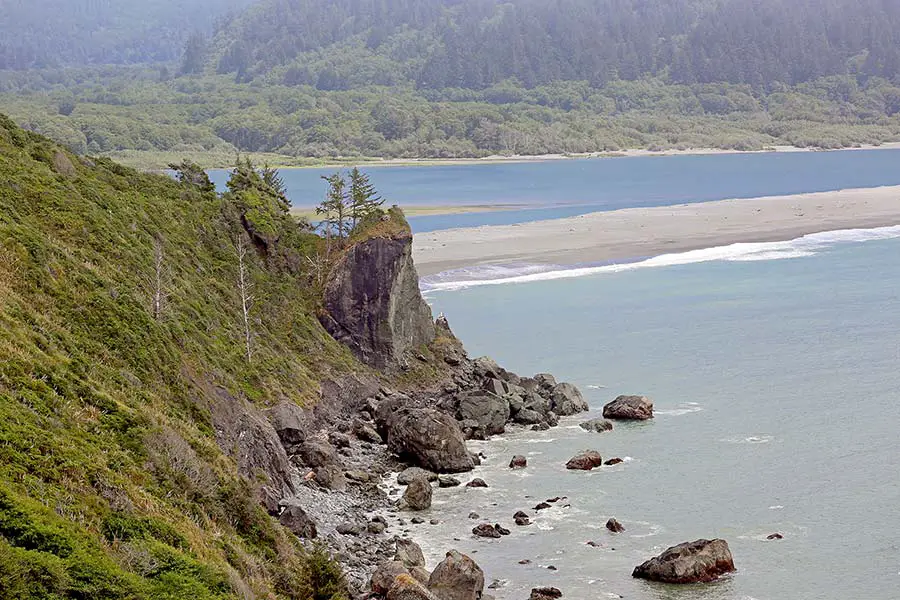 On the other hand, Redwood National Park has temperate rainforest with ancient groves of trees and access to the stunning Pacific Coastline. Even the wildlife is different. You're more likely to spot bears in Yosemite National Park, but Redwood is the only one with an elk population.
The good news is that you will have plenty of places to explore, accessible by hundreds of miles of hiking trails. For example, Redwood National Park has approximately 70 miles of trails. This large amount of trails is nothing compared to Yosemite's 750 miles of trails.
Camping is a popular accommodation in both national parks. Yosemite has 13 individual campgrounds, and Redwood National Park has four. While Yosemite has more campgrounds, there is also a much higher demand due to the number of visitors each year. Therefore, you will likely find it easier to secure a campground spot in Redwood National Park.
Yosemite does have better temperatures for camping in the summer, but the year-round temperatures in Redwood National Park allow for camping all year.
If you are looking for more comfortable accommodations, there are a number of hotels, cabins, and vacation rentals within Yosemite National Park.
However, Redwood National Park does not have any lodging within the park, so visitors would need to find a hotel or other accommodation in a nearby town.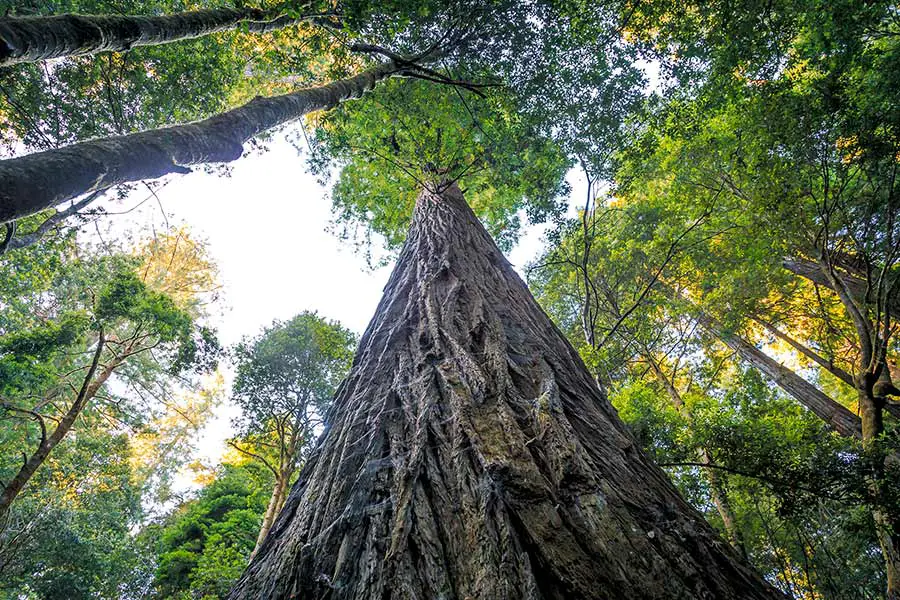 Redwood National Park requires little to no effort to enter at any point during the year. The park has no entrance fee and doesn't require a reservation. On the other hand, Yosemite does require a reservation during peak times (6 AM to 4 PM) between May and September. A fee of $30 is charged for each vehicle that enters the park.
It is not easy to judge which of these unique national parks is better. However, Yosemite is hands down the most popular based on the number of visitors (about 3.5 million compared to 700,000). It all boils down to when you plan to visit, what type of landscape you want to explore, and if crowds are a deal-breaker.
How Far is Yosemite National Park from Redwood National Park?
Yosemite National Park and Redwood National Park are approximately 450 miles apart. Redwood National Park is situated along the Pacific Coast just south of the California-Oregon border. Yosemite National Park is in the eastern portion of the state near the Nevada-California border. Driving between the two parks will take about 8.5 hours.
Visitors arriving from San Francisco can reach Redwood National Park in 5.5 hours (350 miles) by driving up the iconic US 101. Yosemite lies about 3.5 hours (170 miles) by car due east of San Francisco. Visitors from Los Angeles can also easily reach Yosemite in about 5 hours (280 miles).
It's important to note that there is a lot to see and do in both parks, so it isn't recommended that you attempt to tackle both in one trip.
Other Posts of Interest
Are Yosemite Falls and Bridalveil Fall the Same?
Yosemite National Park is full of many spectacular waterfalls. The two most popular are Yosemite Falls and Bridalveil Fall (no "S" at the end of Fall), and no, they are not the same.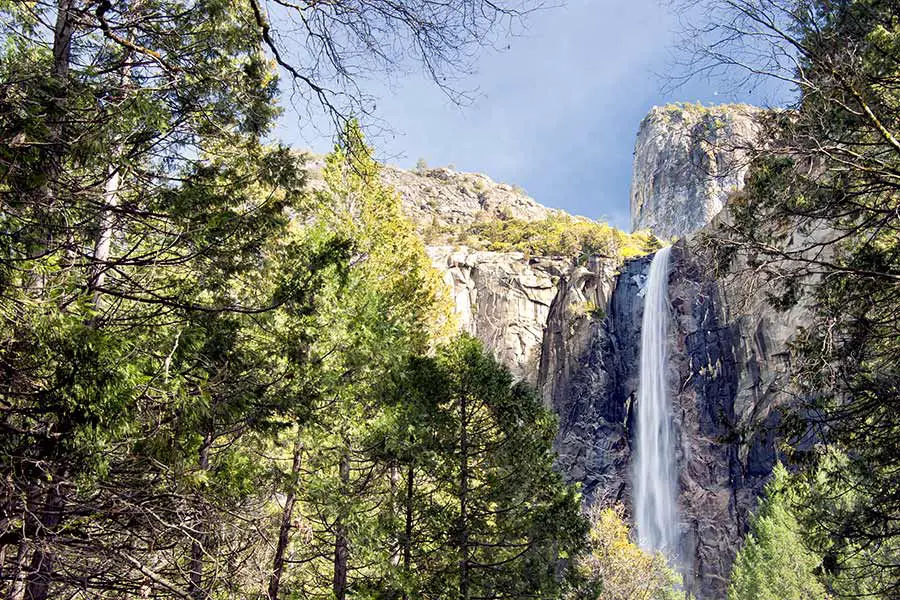 Unfortunately, these two are often confused since Bridalveil is one of the most prominent waterfalls in the Yosemite Valley. Also, contributing to the confusion, the two waterfalls are only a few miles apart and look similar in photos.
Yosemite Falls is the highest waterfall in the park and consists of upper and lower falls. Combined, the water from Yosemite Falls plunges a total of 2,425 feet! Bridalveil Fall is shorter at 617 feet tall.
The best time to see the waterfalls at their peak is during the late spring (typically May and June), when rivers and streams are full from snowmelt. In addition, some waterfalls can reduce to just a trickle or dry up entirely in drought years during the summer.
What's the Best Time to Visit Yosemite National Park?
The best time to visit Yosemite is May or September. The park will still be accessible during these months but won't have the summer crowds. The park can receive up to 5 million visitors each year, with most arriving during June, July, and August.
Visitors can expect to see busy trails, packed campsites, and expensive hotel rates in the peak season. You'll need to plan your trip well in advance if you want to visit during the most popular months, especially if you are staying in the park. It's recommended that you book at least a year in advance.
Visits during the winter months should be avoided since many of the roads and trails will be closed due to snow.
Is Half Dome and El Capitan the Same?
Half Dome and El Capitan are two different granite rock formations located in Yosemite Valley. However, these two features are only 5 miles apart on opposite ends of the valley.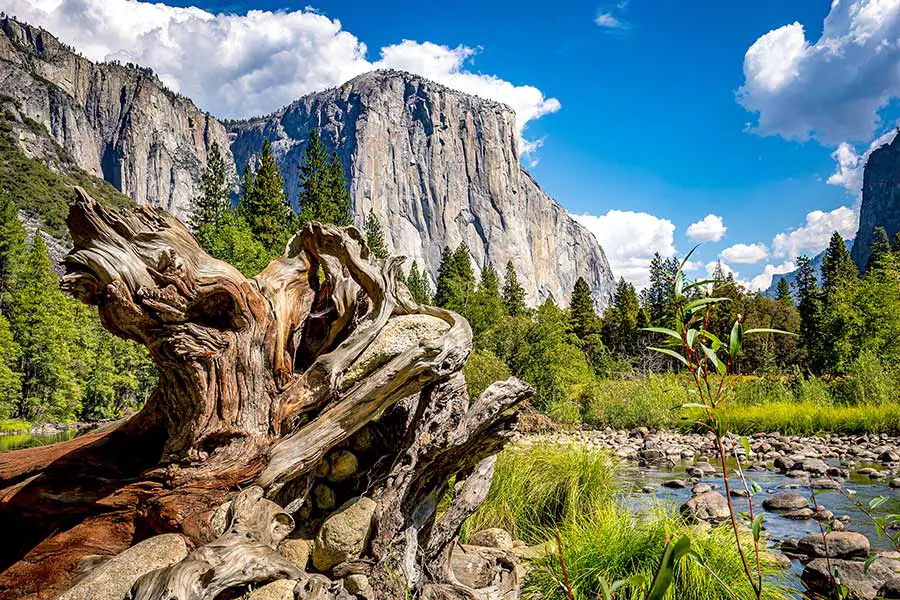 Half Dome, located on the eastern end of the valley, is the most well-known because of its unique dome shape (which appears to be cut in half, hence the name). Half Dome stands 4,737 feet above the floor of Yosemite Valley. El Capitan stands 3,000 feet tall and is located on the western end of Yosemite Valley.
Both rock faces are popular destinations for rock climbers looking to scale their way to the top. For those of you who want to keep your feet firmly on the ground, you can hike to the top of both Half Dome and El Capitan. Both trails are extremely strenuous and take about 15 hours each to complete.
Road Trip Answers Fun Fact: Rock climber, Alex Honnold, has the fastest record for climbing both Half Dome (1 hour and 22 minutes) and El Capitan (1 hour and 58 minutes). He accomplished both without any ropes or safety equipment.
Does Redwood National Park Have Waterfalls?
Redwood National Park does have several waterfalls. However, they are not as impressive as the massive ones seen in Yosemite National Park. The most popular waterfall in Redwood National Park is Trillium Falls. This modest waterfall stands only 12-15 feet tall but makes up for it by its serene locale nestled in the thick of an ancient redwood forest.
To reach Trillium Falls, visitors must hike the Davison Trail from Elk Meadow (home to some Roosevelt elk, if you are lucky enough to spot them). The trail is a short half-mile but climbs 200 feet. From the falls, you can turn back or complete the entire 3-mile loop to see more of the forest.
What's the Best Time to Visit Redwood National Park?
Thanks to its mild coastal climate, Redwood National Park enjoys decent weather throughout the year (between 40 to 60 degrees all year). However, the best time for a visit to Redwood National Park is between May and September to avoid the rainy season.
Visitors should avoid the winter months when the park gets the highest rainfall. December receives the most rainfall with an average of 14 wet days and nearly 9 inches of rain. This precipitation can make trails slippery. Plus, it's no fun being wet throughout your visit to the park.
Choosing Between Yosemite and Redwood National Park
For first-time visitors to California, Yosemite is a must-visit. However, if you have limited time, are visiting during the winter, or are going to be traveling along the coast, Redwood National Park is a great alternative.
No matter which park you ultimately choose, you won't be disappointed. And, remember, you can always visit the other one on your next trip to California.