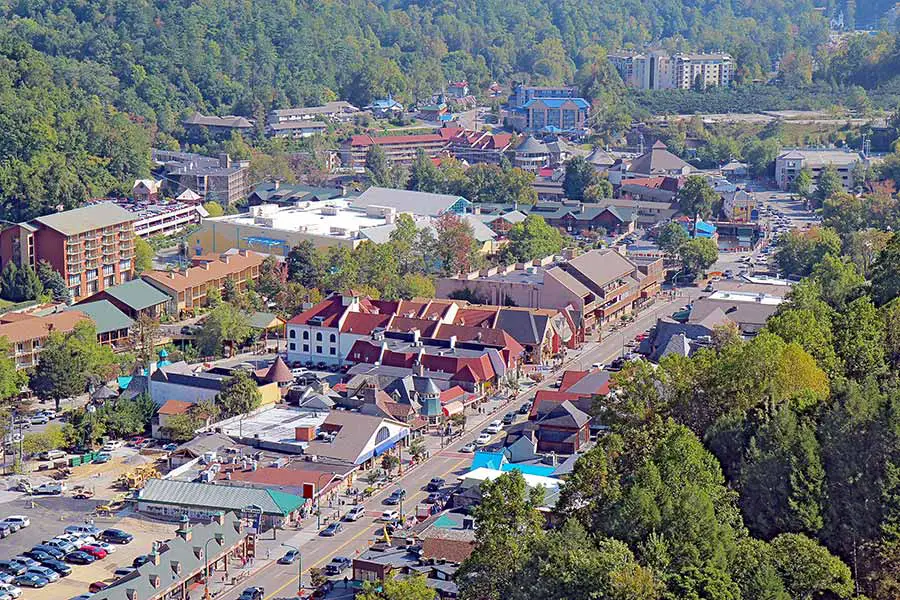 A family trip to Tennessee is an experience your whole family will remember. Gatlinburg and Pigeon Forge are two of the most popular destinations in Tennessee – or are they? Are Gatlinburg and Pigeon Forge the same?  
Gatlinburg and Pigeon Forge are not the same: they are two separate towns. Gatlinburg is nestled against the Great Smoky Mountains National Park, and Pigeon Forge is located just north of Gatlinburg, closer to the town of Sevierville. However, both towns are great places to stay.
So is it cheaper to stay in Gatlinburg or Pigeon Forge? What's the best time of year to visit Gatlinburg? Where did the name Pigeon Forge come from? In this post, we will provide you with the answers to these questions and more.
Gatlinburg and Pigeon Forge: Friendly Neighbors
Gatlinburg and Pigeon Forge are separate places, but you could be forgiven for thinking they're the same thing. Gatlinburg and Pigeon Forge are closely connected and easy to get between, so most families who visit the area end up doing activities in both places during their trip. Plus, both towns are set against the deep backdrop of the Great Smoky Mountains.
Both towns are popular destinations for tourists and support only a very small year-round population. Pigeon Forge has about 5,900 permanent residents, with only about 3,900 in Gatlinburg. The closest major city is Knoxville, which is about 45 minutes northwest of Pigeon Forge.
Pigeon Forge and Gatlinburg are both located in Sevier County, Tennessee. Sevier County was carved out from Jefferson County in 1794 and was named after Tennessee's first governor, John Sevier. The area was once part of a proposed state called Franklin, which was proposed as the 14th state; however, enthusiasm for this state waned, and as the new republic evolved, the area ultimately became part of Tennessee.
Today, the area has a thriving tourist economy. One of the biggest draws to the region is the Great Smoky Mountains National Park, whose beautiful mountains and lush forests make the entire area feel verdant, alive, and ancient. The national park attracts more than 14 million visitors a year, making it the most-visited national park and bringing billions of dollars into the local economy.
While you can camp in the Smokies, many visitors choose to stay in Gatlinburg or Pigeon Forge. One of the most popular ways to appreciate the area is to rent a cabin. There is a thriving market of rental cabins in the area, suitable for families of all sizes. The area also has a wide variety of hotels and resorts for visitors who don't crave that rustic vibe.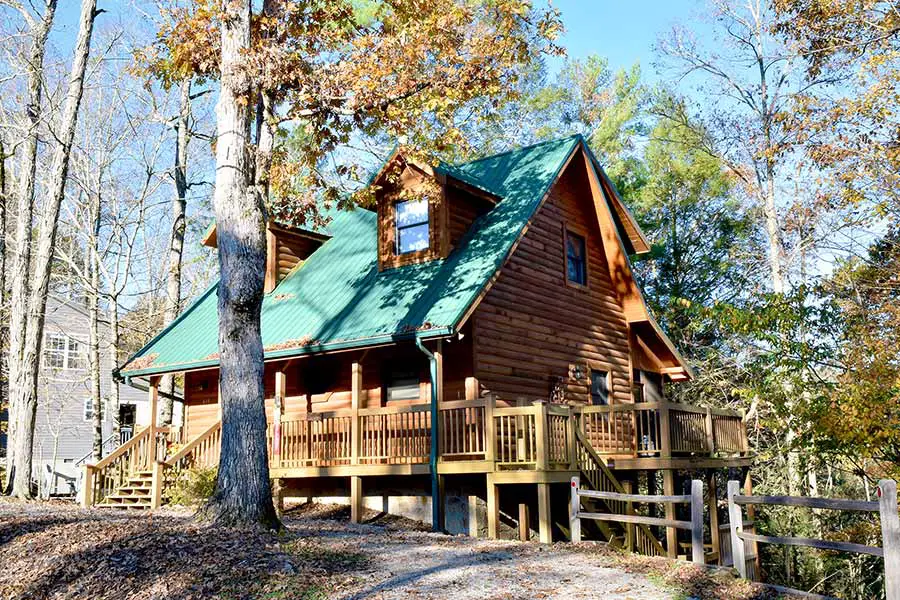 Which is Best, Pigeon Forge or Gatlinburg? 
Pigeon Forge and Gatlinburg are both excellent places to stay. Both towns have a bunch of things to do, a variety of places to stay, and easy access to the Great Smoky Mountains National Park.
One of the key differences between these towns is that Pigeon Forge is spread out like most towns, but the majority of Gatlinburg's attractions are located along one stretch of road – The Strip. In addition, The Strip is walkable and accessible from the Gatlinburg Trolley, which makes it a very popular place.
Gatlinburg is nestled against the gentle curves of the Great Smoky Mountains and borders the National Park. If you plan to go to the Great Smoky Mountains National Park – and you definitely should – Gatlinburg may be a more convenient location.
Another big bonus for Gatlinburg is the Ole Smoky Moonshine Distillery, which is definitely worth visiting. You can sample everything from White Lightning to Peanut Butter Whiskey – do this early, and you can walk off the 'shine while you explore The Strip.
Regardless, both towns do have a lot to offer. To help you decide which is best, here's a list of amenities in each city:
Pigeon Forge:
Gatlinburg:
Road Trip Answers Fun Fact: Gatlinburg is named after Radford Gatlin, who owned a general store and ran the post office. Despite his prominence, Gatlin was something of a troublemaker, and locals ran him out of town after he started a feud with a local family. 
Is it Cheaper to Stay in Gatlinburg or Pigeon Forge? 
There's a common conception that Gatlinburg is more expensive than Pigeon Forge. Gatlinburg, after all, does have the lion's share of the area's attractions. We decided to test this assumption and compared prices for a family of four staying in a cabin, a hotel room, and an Airbnb rental for one week. We found that prices for similar stays were very similar – in other words, it costs about the same to stay in either place.
Prices in popular areas like Gatlinburg and Pigeon Forge tend to surge during busy times of the year. So visiting during the off-season can be a great way to stretch your dollars. And consider a variety of kinds of stays; we found that many cabins were actually cheaper than hotel rooms, and Airbnb listings for the area were quite enticing.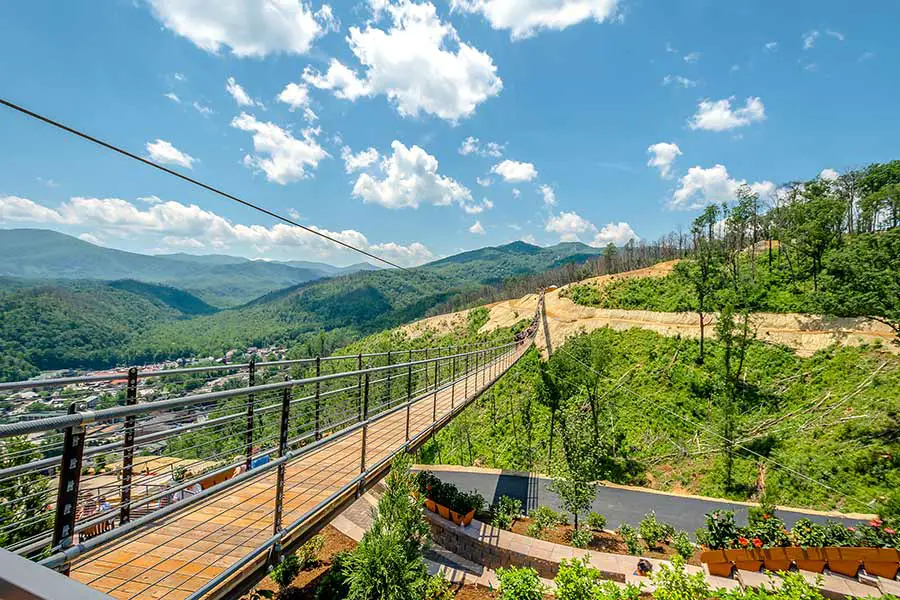 Other Posts of Interest
Do You Have to Pay to Ride the Gatlinburg Trolley? 
The Gatlinburg Trolley is free! You can park your car at one of the Gatlinburg Park 'n Ride lots, located near the City Hall and the Gatlinburg Welcome Center, and board the trolley for free.
Be aware that trolleys run about every 45 minutes and plan accordingly. A free Trolley Route map is available online; you can get to all of the major Gatlinburg attractions on the trolley.
Is There Any Free Parking in Gatlinburg?
There is free street parking along River Road, between the entrance from the Ripley's Aquarium to the Great Smoky Mountains National Park. Many people come and go from this area, so if you circle around, you might be able to find a spot opening up.
However, during peak seasons and special events, you are not likely to find parking here. Otherwise, if you are going to a specific destination, they may have their own private parking lot. There are also several paid parking lots throughout the city, or you can take the Gatlinburg trolley.
What is the Best Time of Year to Visit Gatlinburg? 
The best time of year to visit Gatlinburg depends on what you want. The summer months in Gatlinburg are hugely popular, as families on summer vacation road-trip into town to see the Smokies and visit the attractions. June, July, and August are hectic and very hot months, but there is a whole lot going on.
If you like fall foliage, you should visit Gatlinburg in October. Visitors travel from around the globe to take in the glorious colors of the Smoky Mountains as the leaves change, which makes October a busy month. However, if you like a quieter scene but still want to see fall colors, visit in September and go to some higher-altitude attractions to see the beginning blush of fall colors.
November and December are great months to have family holidays in Gatlinburg. Thanksgiving or Christmas celebrations in the Smoky Mountains will be memorable for their beauty, especially if it snows. If the snow is good, you can even go ski at Ober Gatlinburg.
Another great way to explore the snow-covered mountains is to go hiking. Bring warm clothes and appropriate gear, and plan ahead, as the mountains can be rugged. You should also bring your sense of wonder because a wintertime hike through the Smokies is an ethereal and beautiful experience.
The spring months in Gatlinburg tend to be quiet. If you're peopled out, March through May is considered the low season and is a more mellow time to visit the region. You can enjoy the area without competing against the throngs of other tourists. If you go during April and May, you can catch the wildflowers as they bloom.
Why is Pigeon Forge Called Pigeon Forge?
The city of Pigeon Forge is named after two things: the nearby Little Pigeon River and a nearby iron forge. The Little Pigeon River was the site of early American settlements in or around 1790; settlers named the Little Pigeon River after the massive flocks of passenger pigeons that roamed the valleys before their extinction in 1914.
The forge was built in 1817 by a man named Isaac Love. The forge provided locals with access to a skilled ironworker and iron goods and materials. Since the forge was so important, and since it was located near the Little Pigeon River, the surrounding settlement was named Pigeon Forge.
In The End, They're Both Great
Gatlinburg and Pigeon Forge are two different towns, but they are located very close to each other: you can drive from Gatlinburg to Pigeon Forge in about twenty minutes. Each town has its own unique collection of attractions and amenities, plus an assortment of restaurants and lodging options. So whether you choose to stay in Gatlinburg or Pigeon Forge, you'll find your vacation in the Smokies to be a truly memorable experience.