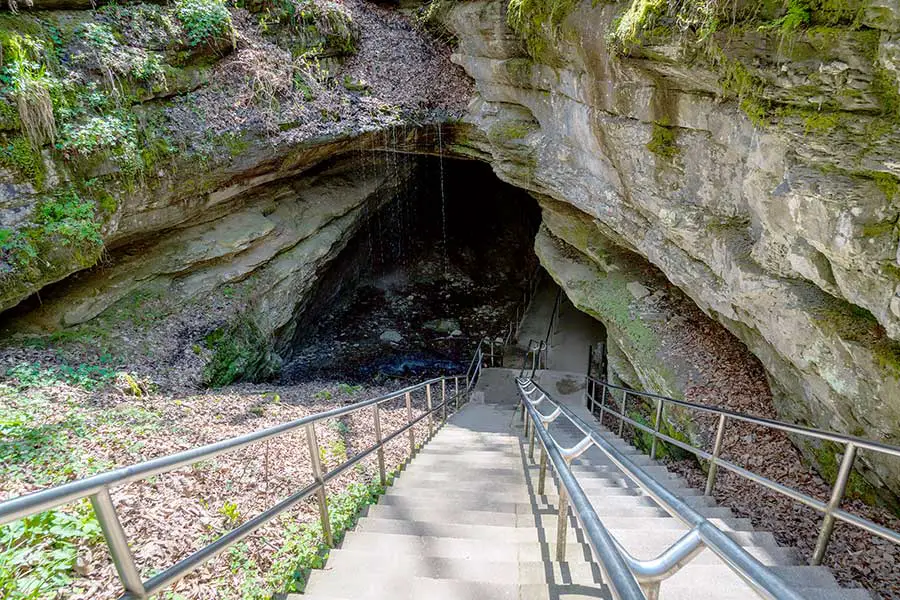 Nature lovers can have a difficult time deciding which national parks to visit on a trip. There are so many out there that it can make your head spin trying to figure out which ones are worthy. However, if you're planning to be in Kentucky, the choice just got a lot easier, but you still might be wondering if it is worth visiting Mammoth Cave National Park.
You should absolutely visit Mammoth Cave National Park in Kentucky. River valleys, vast greenery, and the longest known cave system in the world are just a few examples of the natural beauty this park offers. With a variety of activities to do, there's bound to be something for everyone.
As one of the best national parks in the nation, Mammoth Cave has far too much wonder to sum up in just a few sentences. There are biking trails, stargazing spots, and tons more to explore. Read on for more details on the grand adventures you can have on your next trip to Mammoth Cave National Park.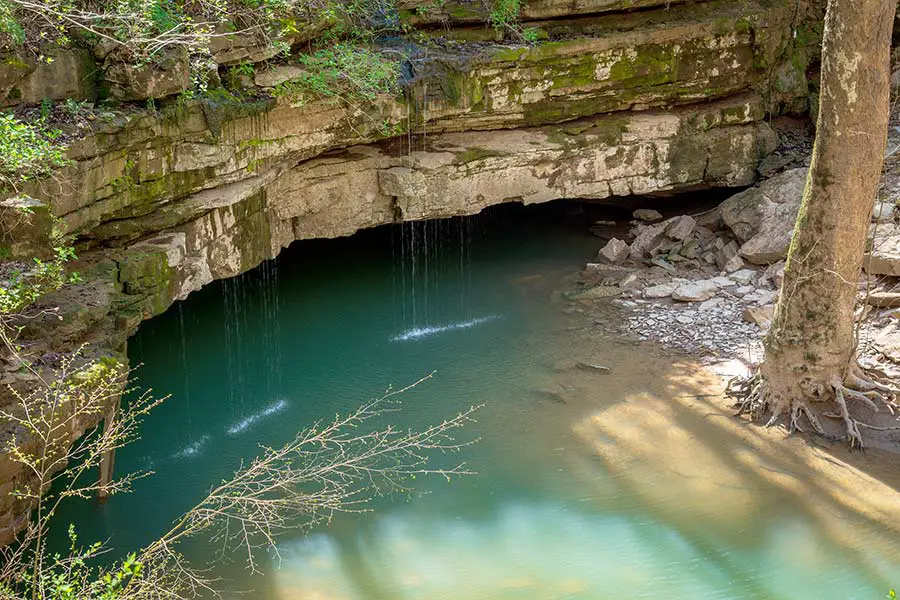 Mammoth Cave – Well Worth the Visit
Rather than appealing to just a few people with specific interests, Mammoth Cave National Park has fun in store for anyone who decides to stop by. Located in Kentucky, about a two-hour drive south of Louisville, Kentucky, or around 100 miles northeast of Nashville, Tennessee, the park is home to several major attractions as well as some extra activities to enjoy. So whether you live in Kentucky or are just passing through, you should positively plan a trip to Mammoth Cave.
Officially given national park status on July 1, 1941, Mammoth Cave National Park contains over 52,000 acres of land to discover. However, the land's splendor is no secret, either. Over 2 million people visit every year to connect with nature, bond with their families, and witness unseen sites. Ask a few different people who have visited what their favorite part of the park was, and you're likely to receive a wide array of answers.
The park's biggest claim to fame (and origin of its namesake) is the Mammoth Cave cave system. Currently the most extensive cave system known to man, Mammoth Cave is a treat for any explorers out there or just somebody who wants to see something new. People flock to Mammoth Cave from all over to get a glimpse at the gorgeous limestone formations within. The cave is so massive that you can have a completely different experience every time you visit.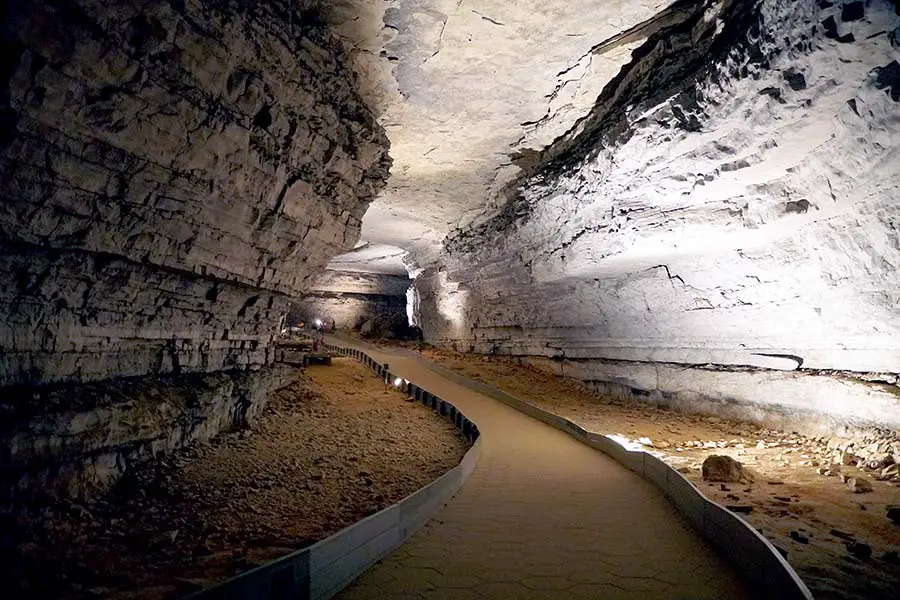 With over 400 miles of the cave to explore, a plethora of options are at your fingertips. There are multiple cave tours to choose from, which is an experience you won't want to miss – half a million people take one every year! You can embark on a relaxing guided tour that walks you through the variety of rock formations in the cave or set out for an adventurous tour where you shimmy through cramped spaces and journey through the more complex parts of the cave.
Part of the beauty of Mammoth Cave is that it's not just about what you can see inside it; it's about what you can learn, too. In addition to the more exploratory tours, the park offers historical tours where a guide walks you through the cultural landscape of the cave and how it's shifted over the years. Those who love to immerse themselves in cultural history will love this tour, as there's tons to learn from the past events that shape this cave.
Whatever tour you wind up choosing, it's wise to make a reservation as soon as possible for your desired time. Spots can sell out fast at certain times of the year, especially in summer. There are over a dozen tours to pick from, with the length of the tour varying from a mere half an hour to a whopping six hours, so you can easily adjust your choice to the amount of time you have to spend in the cave. Those looking for a less crowded tour where they can take their time exploring will likely want to look into a winter reservation, as those tend to be the most open.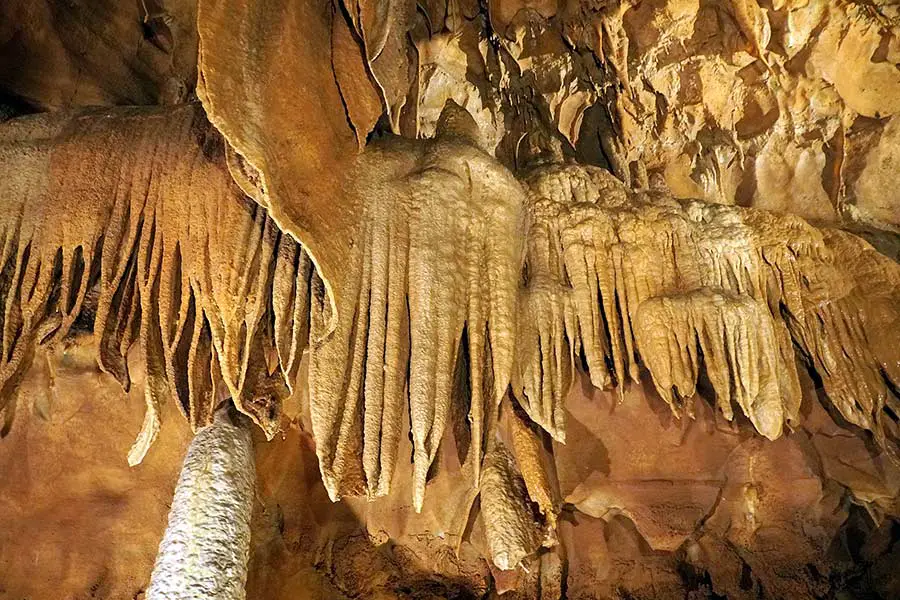 We must also advise that you strictly adhere to any suggestions the park has for visiting the cave, especially clothing. Bring along a light jacket or dress in layers. Wear comfortable hiking boots or rugged shoes. No bare feet and sandals are strongly discouraged. Most tours require the ability to use stairs, stoop, and navigate over uneven areas, smoking is not allowed, and you must stay with the tour group.
While the cave itself is Mammoth Cave National Park's most popular attraction, there's much more to do. Aboveground, you can take a walk through the wilderness and revel in the beauty of the park's river valleys, waterfalls, and dense forestation. Amazing activities abound in this park, including stargazing, horseback riding, and camping, to name just a few. Let's dive into some of the other great adventures you can have at Mammoth Cave.
Other Posts of Interest
Stargazing in the Park
Mammoth Cave's land offers several prime spots to view the stars, making it a popular destination for avid stargazers. In fact, stargazing is such a prominent part of Mammoth Cave's wonder that the National Park Service adamantly states that "half the park is after dark" when you can witness the bright stars shining in the night sky. You can journey on your own to look up at the stars or sign up for a ranger-led program that allows you to view celestial objects with a telescope.
Road Trip Answers Fun Fact: As if Mammoth Cave's current 400+ miles wasn't impressive enough, it gets even better than that. Cave enthusiasts, scientists, and researchers have spent hours exploring the cave and are still discovering new areas to this day. It is estimated that there could be hundreds of miles of cave left undiscovered!
You should follow a few best practices if you decide to go stargazing. First, of course, it'll be dark out, so using a flashlight is only natural, but we recommend one with a red light to avoid interference with your view of the stars. 
Taking the time to find an ideal spot that is dark without artificial light and a place that isn't blocked by foliage is also a great idea. The bottom line, however, is that you'll have a blast stargazing at Mammoth Cave no matter what spot you choose.
Horseback Riding
At Mammoth Cave, you don't have to do all your exploration on foot. Horseback riding is often cited as one of the park's finest joys, with over 60 miles of trail to gallop across. You can bring your own horse or rent one with a guided riding tour.
However, for the safety of you, your horse, and the park, please be sure to follow all horseback riding guidelines as you explore the trails.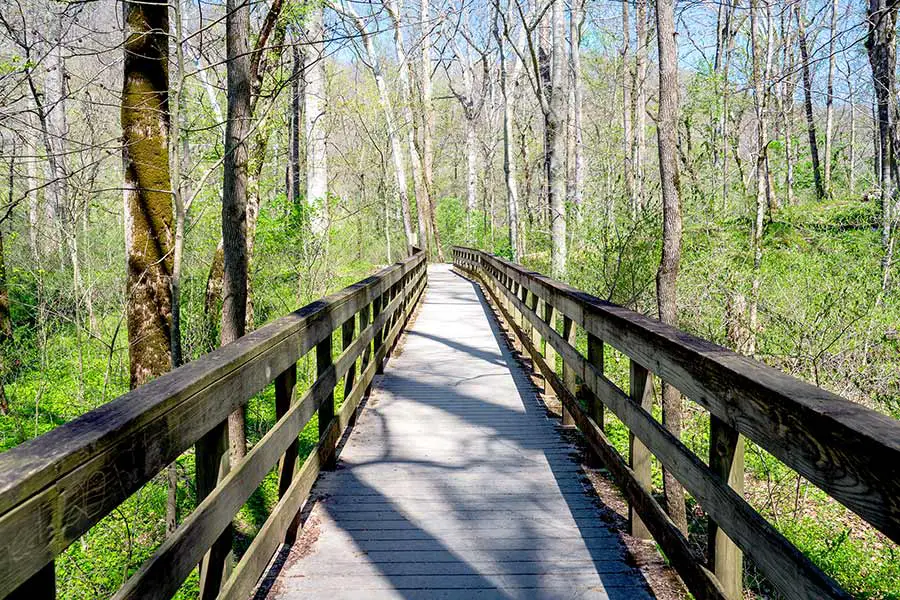 Nature Exploration
It's only natural that the expanse of wilderness Mammoth Cave represents would allow for many entertaining activities. The river running through the park offers an excellent opportunity for a relaxing afternoon of fishing. If exploration is more up your alley, take a boat, kayak, or canoe out on the river and see where it takes you! All of the park's land is teeming with wildlife, including the river, so animal lovers will be thrilled to see which creatures they can spot.
For many adventurers, it doesn't get much better than a pleasant hike through nature. Over 80 miles of trail await hikers that visit Mammoth Cave, rife with places to camp out as long as you have a permit (and ideally a reservation.) Take a trip to the park's south side to visit a natural spring and walk alongside the park's river. Or, if forestry is more to your liking, you can wander through 60 miles of backcountry trails on the northern side.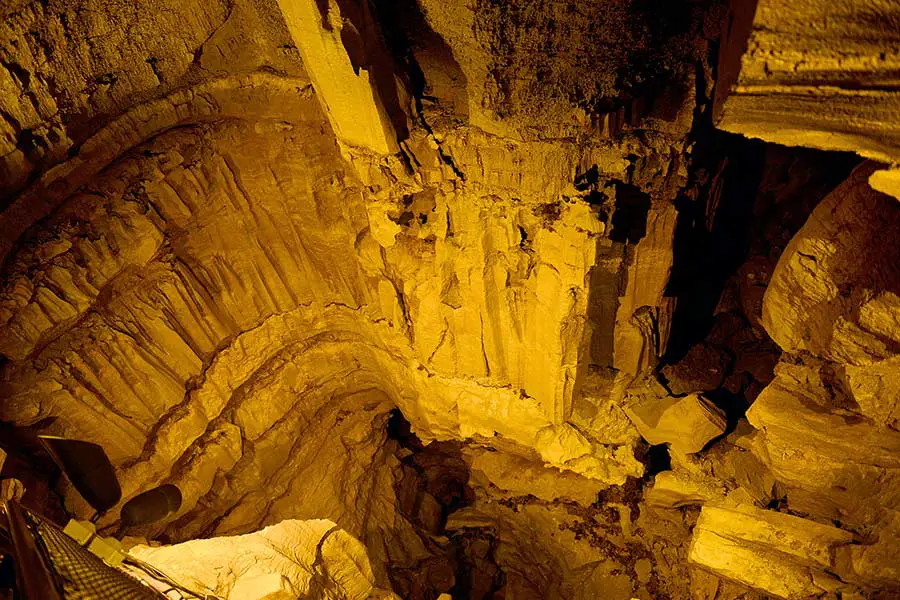 How Cold is it Inside Mammoth Cave?
Although there is some minor fluctuation at times, Mammoth Cave's internal temperature is shockingly consistent. You can expect it to be around 54°F (that's roughly 12.2°C) inside the cave at all times of the year, give or take a couple of degrees. If you're so inclined, you can call ahead and ask what the temperature is looking like on the day of your reservation, but assuming it's 54°F should be just fine.
This information makes dressing up for a cave tour relatively simple. A heavy long-sleeve shirt, light jacket, or sweater are about all you need to stay warm inside Mammoth Cave. Of course, we also recommend wearing your most durable and comfortable shoes, as you'll be walking around on rock formations quite a bit.
Mammoth Cave Has Beauty For All
Next time you're heading east on US Highway 50, consider dipping down to Kentucky for a spell to see the glory of Mammoth Cave National Park for yourself. Few other national parks in the United States offer such a wide variety of nature trails, river valleys, and diverse fauna for you to discover. On top of this, not a single one can boast that it has the longest cave system currently known, so there's little reason not to make lifelong memories with your loved ones at Mammoth Cave.