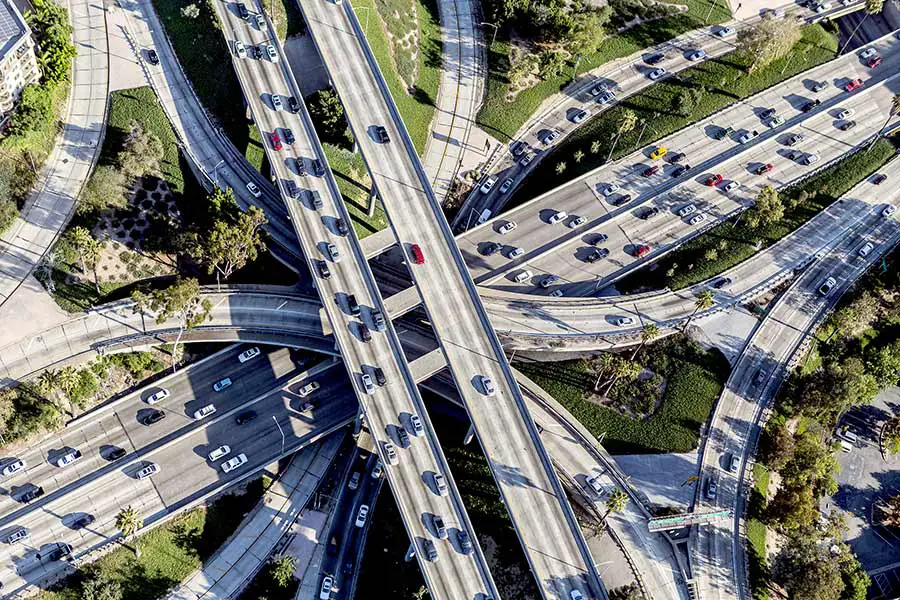 Los Angeles is known for its beaches, movie stars, and sunshine. Unfortunately, this part of the Golden State is also known for horrendous traffic and driving conditions. People looking to pass through Los Angeles often ask, what is the best time to drive through Los Angeles?
Drivers looking for the best time to avoid the worst traffic conditions in Los Angeles, California, should hit the road outside of normal commute hours when millions of people are trying to go to (7 AM to 10 AM) and from (4 PM to 7 PM) work. Therefore, schedule your trip through LA during the off-peak commute hours.
Los Angeles traffic doesn't have to ruin your trip. By making minor adjustments to your itinerary, you can avoid the worst traffic. Continue reading for more information about Los Angeles traffic conditions, what freeways to avoid, and tips to stay safe on the road.
Driving Through LA – When Should You Travel
The metropolitan area of Los Angeles is home to over 13 million people. Unfortunately, with it comes some of the country's worst traffic conditions. Driving through Los Angeles can be horrendous if you don't plan your trip carefully. Fortunately, there are a few tricks that you can utilize to avoid many of the city's most congested areas.
Generally, the worst traffic occurs during peak rush hour times when people are commuting to and from work. However, bad traffic can happen at any time of the day, especially if there is an accident or other obstruction in the roadway.
To avoid the worst traffic in LA, you should plan to drive early in the morning (before 7 AM) or later in the evenings (after 7 PM). Early afternoon traffic usually lightens up a bit after the morning rush hour has ended.
The busiest highways in Los Angeles are the 5, 110, 10, and 405. Most of these are built to sustain very heavy traffic and are 6 to 8 lanes wide on each side in some places. Despite this, these four freeways can experience gridlock that can last for several hours. Therefore, it's recommended to avoid these freeways during peak driving times if possible.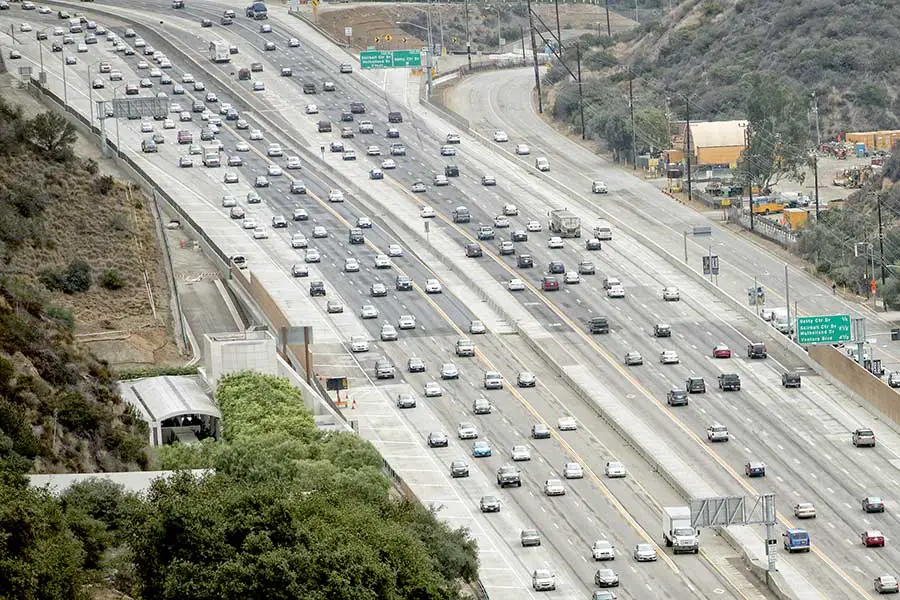 While most of the bad traffic is a result of simply too many cars on the road at one time (the city is home to about 2.5 million registered vehicles), there are a higher number of traffic accidents in Los Angeles compared to other major cities.
Drivers tend to be more aggressive and drive at speeds that significantly exceed the posted speed limit. You should always keep a safe distance between you and the car in front of you and never assume that traffic won't stop in the blink of an eye.
Other Posts of Interest
Some freeways have carpool or toll lanes that tend to continue flowing even when traffic is terrible. But, of course, some of these lanes require special transponders or require a fee to be paid for use.
Because of the mountains that encircle Los Angeles, there aren't any great options if you want to bypass the entire city. Unless, of course, you want to travel really far out of the way, which will likely take you more time than just embracing the LA traffic.
What is the Best Route to Drive Through Los Angeles?
For people passing through Los Angeles, the primary route will most likely be the 5 freeway. This freeway runs from Tijuana, Mexico, to Vancouver, Canada. This route is an excellent option because it doesn't require changing from one freeway to the next eliminating the chances of missing an exit or backtracking.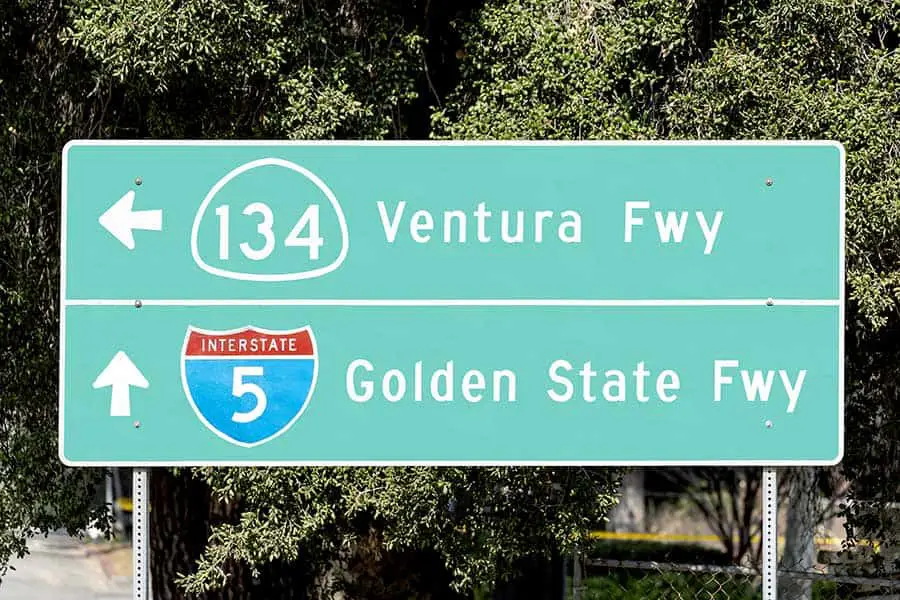 The only problem with the 5 freeway is how close it runs to downtown Los Angeles. Not only do you have to deal with thousands of cars on their commutes, but the 5 narrows to just a few lanes near downtown. For this reason, it's very likely that your GPS may route you to the 405 or the 210. The 405 runs to the west of downtown (closer to the coast), while the 210 runs to the east (through Pasadena). In either case, both freeways ultimately connect back to the 5 before passing through the mountains just north of Los Angeles.
Is Driving in Los Angeles Dangerous?
Driving around Los Angeles can be pleasant and safe as long as you take certain precautions. Unfortunately, one of the greatest risks is the higher than average chances of a serious accident. You will likely be surprised by how aggressive and fast Californians drive if you are new to the area.
It's common for the regular flow of traffic to move ten to fifteen miles per hour over the speed limit. In many cases, it's safest to keep pace with traffic as driving too slowly can cause an accident. However, you should do your best to follow traffic laws to avoid any tickets.
In Los Angeles County alone, there have been over 350,000 traffic collisions resulting in 4,300 roadway fatalities in the last five years. While many accidents are minor, they can cause significant traffic delays. However, California's transportation authority (CalTrans) is relatively efficient at keeping roadways clear.
Road Trip Answers Fun Fact: The busiest freeway in Los Angeles is the 405, which is traveled by nearly 350,000 cars every day.
Many accidents are a result of quickly stopping traffic. It's pretty common for traffic to be moving 80 miles per hour one second and completely stopped the next. Never assume that good traffic will stay that way. Always make sure to keep a safe space from other vehicles. Your GPS can usually give you an indication of an upcoming congestion area.
Crime on roadways such as carjackings is extremely rare. But if you are lucky, you might have the rare opportunity to witness one of California's famous high-speed police chases in person.
How Long Does It Take to Drive through Los Angeles?
The City of Los Angeles covers an extensive metropolitan area. Therefore, you can expect to drive between 50 to 60 miles from one end to the other. In good traffic, you can pass through Los Angeles in just under an hour. However, this trip can easily take three to five hours during rush hour.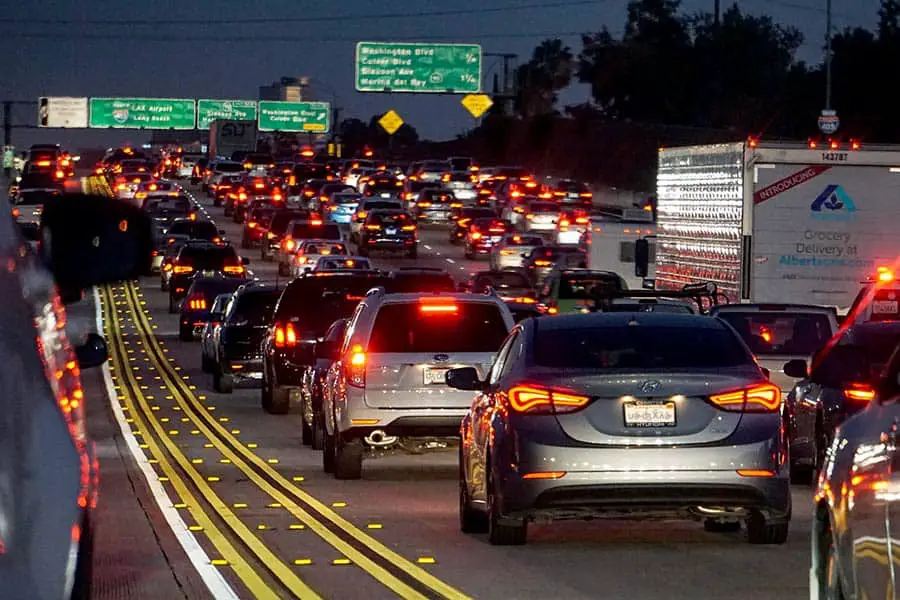 The good news is that carefully timing your trip can minimize this inconvenience. In addition, because of the expansive network of freeways, there are plenty of alternative routes if one is backed up.
When passing through Los Angeles, your GPS will be your best friend. Even local drivers regularly use their GPS all the time, even when they are extremely familiar with the route. Using GPS helps because it will help identify slow patches ahead and reroute them to the most efficient route if necessary.
How Long is Rush Hour in Los Angeles?
Peak commute times bring the worst traffic in the City of Los Angeles. The morning rush hour lasts from approximately 7 AM to 10 AM during the workweek. Evening rush hour starts around 4 PM and can last until about 7 PM.
Congestion may vary depending on the area, with the highest traffic levels happening near major freeway junctions. Traffic can be just as bad on the weekends, especially in the evenings when people are heading out to enjoy the famous Los Angeles nightlife.
Tips to Minimize Drive Time on Your Los Angeles Road Trip
Unfortunately, unless you are driving through the night, you will encounter some traffic along the way. The good news is that leaving at the right time can easily save you several hours of staring out your windshield.
In addition, there are many tips that visitors can learn from the locals to improve their driving experience in the City of Angels.
Always time your drive according to traffic conditions by avoiding rush hours.

 Google Maps has a nifty feature that allows you to pick your desired arrival time, and it will recommend the time you should leave.

Use your GPS.

 It can help by constantly looking for better options and routing you accordingly. GPS will also help keep you out of the many construction zones throughout the city.

Be prepared to drive a little more aggressively than you usually would.

 You may find that you need to go a little faster or change lanes frequently to avoid any hazards or slow patches.
If you do happen to find yourself stuck in traffic, just embrace the California way. Take it as an opportunity to listen to your favorite music or an audiobook. While driving in Los Angeles can sometimes be chaotic, try to relax, take your time, and enjoy the ride.