Each year, millions of tourists flock to beaches along the South Carolina coast for fun in the sun. The state boasts 187 miles of coastline along the Atlantic Ocean with many popular beach destinations. The two most popular are Hilton Head and Myrtle Beach. So, what's the difference between these two locations?
The primary difference between Hilton Head and Myrtle Beach is the atmosphere. Myrtle Beach tends to be more touristy with chain restaurants and tons of activities. Hilton Head is a quieter beach community where people can enjoy time away from the hustle and bustle.
Everyone has different tastes when it comes to a beach vacation. As a result, deciding between Hilton Head and Myrtle Beach may be difficult. Continue reading for more information on the differences between the two destinations, what activities and amenities there are, and how to make the most of your trip to South Carolina.
Hilton Head and Myrtle Beach – What's the Difference?
There are many differences and similarities between Hilton Head and Myrtle Beach. Depending on what you are looking for in a vacation, either could be a great option.
Generally speaking, Myrtle Beach tends to be more touristy with lots of activities. Hilton Head has some of the same activities as Myrtle Beach but comes with a more relaxed atmosphere.
Both cities have similar populations (between 35,000 and 40,000 people) with similar climates. The choice between the two boils downs to atmosphere and activities.
Transportation
Myrtle Beach has its own international airport making it easy to access by out-of-state visitors. Hilton Head does not have an airport. Visitors will need to land in Savanna and drive about 40 minutes to Hilton Head.
So, depending on your itinerary, you are more likely to need a car to get around if you intend to stay in Hilton Head. Rideshares (such as Uber and Lyft are available in both locations, but Myrtle Beach has more drivers and better rates).
Lodging 
Both locations have similar lodging options, including Airbnb, hotels, and resorts.
The cost of lodging in Hilton Head will likely be higher than in Myrtle Beach (up to a 40% difference during the peak season). However, there are more hotels in Myrtle Beach, so this helps find an affordable place that meets your needs.
Food 
Since Myrtle Beach is more touristy, there are lots of chain restaurants, while Hilton head will have more family-operated places. Aside from that, the pricing and quality of food will be similar between the two locations.
Activities
Most people that visit either place come for the beach and watersports. Both locations have beautiful beaches.
Myrtle Beach tends to have more crowds on the beach, while the beaches of Hilton Head are quieter with fewer people. However, you can find fun watersports such as kayaking, standup paddleboarding, and jet skis in both areas.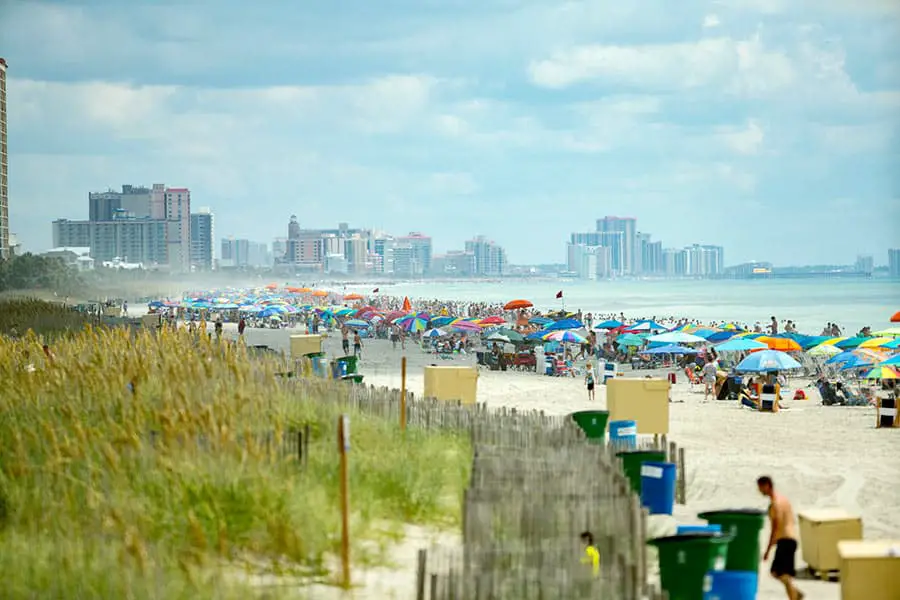 Both Hilton Head and Myrtle beach have places to rent boats that are captained (driven by a provided captain) or bareboat (with no crew or captain).
If you prefer to keep yourself on dry land, you can rent bikes and head to the boardwalk in Myrtle Beach or one of the many bike paths in Hilton Head. Bike rentals will cost approximately $15 a day (many shops also offer hourly rates).
Aside from watersports, Myrtle Beach will have more variety when it comes to touristy activities like miniature golf and dinner shows (like Medieval Times).
In Hilton Head, visitors often enjoy outdoor activities like biking and golf. If you are a family that doesn't like these types of activities, you might get a little bored in Hilton Head.
Hilton Head and Myrtle Beach are great options for people looking to fish. You can fish from the shore on either beach as long as you have a fishing license. Both locations also have a handful of fishing charter services if you want to get out on the ocean.
Road Trip Answers Fun Fact: Myrtle Beach got its name from the many wax myrtle trees that are common in the area.
Other Posts of Interest
Which Beach is Nicer — Hilton Head or Myrtle Beach?
The beaches in Hilton Head tend to be a little nicer than in Myrtle Beach. They are often a little cleaner since there are fewer crowds and are more picturesque.
Despite this, the beaches in Myrtle Beach are also really great. They do tend to have a lot more people, but they cover 60 miles (along the Grand Strand), so there is plenty of room to find a quieter spot (compared to 13 miles of beaches on Hilton Head).
One thing that visitors often worry about is sharks. However, there is an equal chance of a shark encounter between the two locations.
However, it's important to note that these encounters are not common. For example, out of the millions of people who visit, there are only about three shark attacks each year in South Carolina.
Furthermore, the majority of these attacks are non-fatal (there have been nine shark-related fatalities in the last 120 years for the entire state).
What is the Best Time to Go to Myrtle Beach?
Myrtle Beach is an extremely popular vacation spot on the Atlantic seaboard. Each year, approximately 14 million people visit Myrtle Beach. However, the number of people varies depending on when you plan to visit.
For many people, the summer months (June, July, and August) are the best time to visit. During this time, the weather and water temperatures are the best for visiting the beach (when the water temperatures can reach 80 degrees). During this peak season, Myrtle Beach receives over half of its annual visitors (over 8 million people).
If you are looking to avoid the crowds, you can visit just outside of the peak months. It's recommended to visit during late May or early September when the temperatures are still great, but crowds are a bit lower.
The weather during the winter months is mild and pleasant for a visit (the mid-50s), but the water temperatures are not great for swimming at the beach (water temperatures in the low-60s).
Does Myrtle Beach Have a Boardwalk? 
Myrtle Beach has a fairly new boardwalk that completed construction in 2010. The 1.2-mile boardwalk runs along Ocean Boulevard between 14th Avenue Pier and Second Avenue Pier and is a great place to take a stroll and explore. It is open to the public 24 hours a day (year-round), and visitors can enjoy dozens of shops, restaurants, and attractions, including the 200-foot tall Myrtle Beach Skywheel.
It's a great place to find souvenirs or grab a bite to eat. During the year, some events are hosted along the boardwalk (check out the events tab on the Myrtle Beach page).
During the peak summer months, there are restrictions on dogs (only permitted from 5 AM to 10 AM May 1 to Labor Day).
What's the Difference Between North Myrtle Beach and Myrtle Beach?
Myrtle Beach is one of the busiest tourist destinations in South Carolina. However, North Myrtle Beach, located just 10 miles up the coast, is a bit quieter. Many people prefer North Myrtle Beach because it is less crowded and commercialized than its southern counterpart.
In North Myrtle Beach, visitors will still have access to great stretches of beaches and similar activities like watersports and golf. In addition, since the two cities are so close together, you can easily stay in quieter North Myrtle Beach with easy access to the action of Myrtle Beach.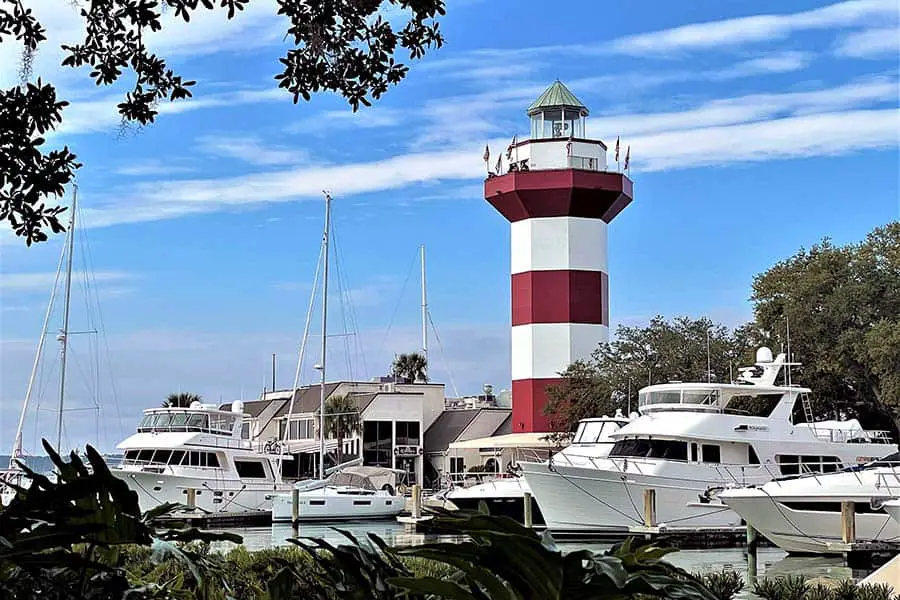 How Far Apart Are Hilton Head and Myrtle Beach?
Hilton Head and Myrtle Beach are approximately 140 miles apart, with Myrtle Beach located near the northern state line (North Carolina) and Hilton Head at the southern state line (Georgia).
The fastest route between the two cities will take you along I-95. This route will take just under 4 hours and cover 240 miles.
Visitors can also take the more direct State Route 17. While this way is about 30 miles shorter, it actually takes a bit longer (about 4 hours and 10 minutes).
Some people prefer to drive State Route 17 since it's closer to the coast and has better views along the way. Also, it passes through several coastal cities and towns, including Charleston.
Is Hilton Head Crowded? 
Although Hilton Head does get fewer visitors each year compared to Myrtle Beach (2.5 million people), it can still get quite crowded during the summer months. Hilton Head has the same peak times as Myrtle Beach (June, July, and August), with the 4th of July week being the busiest.
Therefore, it's best to visit Hilton Head in April, May, September, and October when the crowds are less, and the weather is still pleasant.
The window of warmer weather is a little wider compared to Myrtle Beach since it is further south, and temperatures are usually 3 to 5 degrees warmer. However, even the winter months enjoy low-60-degree temperatures.
Does Hilton Head Have a Boardwalk?
Hilton Head does not have one main boardwalk for visitors. However, there are numerous bike and walking paths located across the island.
One of the most popular spots is Main Street Village, located in the center. This area features an old-fashioned downtown with shops and restaurants that are mostly locally owned and operated.
Choosing Between Hilton Head and Myrtle Beach
If you are having trouble choosing between Hilton Head and Myrtle Beach, take a moment to think about the things you enjoy doing while on vacation.
If you like to be in the action with lots of activities, Myrtle Beach might be the better choice for you. If your family is looking to slip away to a quieter beach location for relaxation, choose Hilton Head. No matter where you end up going, you're sure to have a great time in either place.