The oldest and most impressive national park located in the United States is Yellowstone National Park. While its reputation is based mainly on famous landmarks such as the Old Faithful geyser, there are numerous breathtaking landscapes to enjoy. Visitors planning a trip often want to know, can you drive through Yellowstone National Park?
Yellowstone National Park is easily accessible by car year-round. Driving the park gives visitors the ability to travel at their own pace and stop at the many geysers, waterfalls, and geological features that are most interesting to them. There are also many opportunities to spot incredible wildlife.
Whether you are planning an entire trip to Yellowstone National Park or are just passing through, you'll want to make sure you get the most out of your visit. Continue reading for information about driving and navigating the park, the best time of year to visit, and where to find the best roadside vistas.
Driving Through Yellowstone
There are many attractions that you can enjoy from the comfort of your car in the US, including Mount Rushmore in South Dakota, Death Valley in California, and the fabulous features of Yellowstone Park.
Yellowstone National Park, located in the northwest corner of Wyoming, is one of the most popular national parks in the United States. The park receives over four million visitors each year. However, the best way to get around Yellowstone is by driving your own vehicle. There are many amazing landscapes to take in along the way, including impressive wildlife.
Most visitors stay in West Yellowstone, Cody, or Jackson Hole and are charged a $35 fee when they enter the park. This pass is good for seven days allowing people to come and go as they please. In addition, there are discounts available for special vehicles such as motorcycles.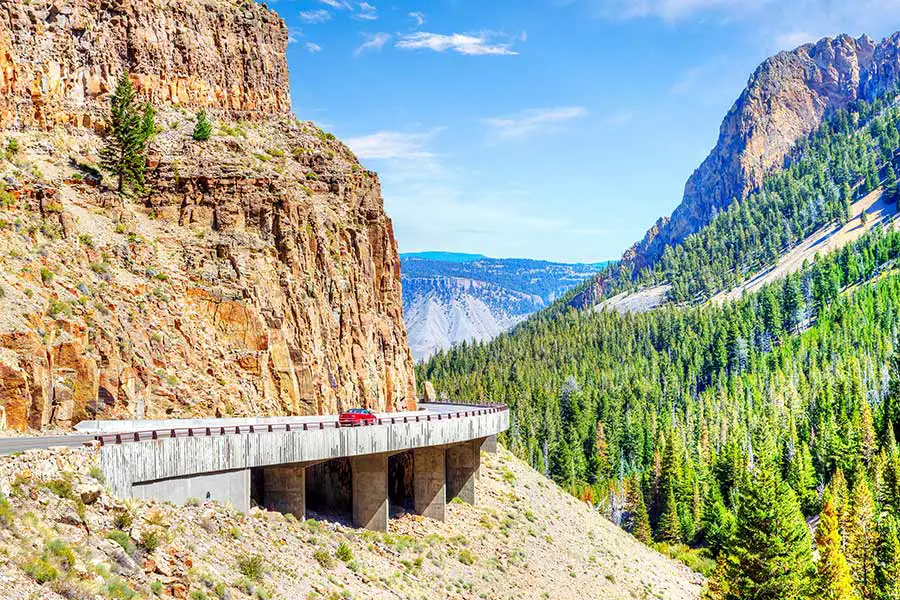 There are a handful of main roads through the park, some of which form loops. In total, the park has over 250 miles of public roads. Despite this, it's relatively easy to navigate the park with a simple park map. You won't find many road names listed. Instead, each major junction has a name (Madison, Norris, Canyon Village, etc.).
When you arrive at a junction, you'll see signs that indicate the direction of the next junction. In some cases, significant landmarks will also be identified. However, it's important to note, that you are unlikely to get cell service in the park, so some navigation devices will be useless.
When driving in the park, you will need to be patient. It can easily take several hours to drive from one side of the park to the other. Part of the reason is the sheer size of Yellowstone. Also, the park is notorious for delays due to miles of traffic jams as a result of crossing wildlife or long lines waiting their turn at a stop sign.
Major Points of Interest
You will need to park and walk or hike to your final destination for most of the main attractions. However, there are lots of incredible sights along the roadways to keep you entertained. Below is a list of some of the best things to see from the car.
Upper Geyser Basin

 – You'll know when you enter the Upper Geyser Basin when you start spotting columns of white steam coming from the ground at the various hot springs and geyser sites. This area feels otherworldly and can be admired from the car. However, you'll need to park and take a quick walk for the best views. 

This area of the park is home to Old Faithful.

Gibbon Falls

 – Yellowstone National Park is full of many waterfalls. Gibbon Falls (just east of Madison junction) stands 84 feet tall and is clearly visible from the roadway. You can also view it from the convenient parking area at the top of the falls.

Lamar Valley

 – Lamar Valley, located in the Northeast corner of the park (near the East Entrance), is one of the two main areas to spot bison. You see hundreds of these magnificent creatures as you drive through the valley. Simply pull off into one of the turnouts for a closer look. An alternative to Lamar Valley is Hayden Valley, near the center of the park.

Grand Canyon of the Yellowstone – 

The canyon is home to the impressive Upper (109-feet) and Lower Falls (308-feet) of the Yellowstone River. The two rim drives offer access to spectacular canyon and river views.

Yellowstone Lake

 – The largest lake in the park is Yellowstone Lake which covers 136 square miles. One of the main roads runs alongside the northwestern shore of the lake.
Road Trip Answers Fun Fact: The Yellowstone Caldera is capable of producing 2,500 times more ash than Mount St. Helen's eruption of 1980.
Other Posts of Interest
Is Yellowstone Open Year-Round?
Yellowstone National Park is open to travelers year-round. However, you may need to make special arrangements or modify your itinerary. Of the five entrances, only the North Entrance stays open through the winter. Check with the park service on entrance closures before scheduling your visit.
Four-wheel drive isn't generally required or necessary when driving around the park. However, there are some areas where chains might be required depending on weather and snow conditions. In addition, roads can close and open daily, so check in with the ranger station each morning for closures.
If you are uncomfortable with driving in the snow, there are some special snow coach shuttles that can take you to the top sites. Many of these can still pass through entrances that are closed to the public.
Which Yellowstone Entrance is the Least Crowded? 
Visitors can enter Yellowstone National Park through one of five entrances labeled by their location (North Entrance, Northeast Entrance, South Entrance, East Entrance, and West Entrance). The most popular entrance, and therefore the most crowded, is the West Entrance because of its access to lodging, restaurants and has the closest proximity to the most popular park features.
Visitors looking to avoid the traffic jams at the West Entrance can opt for the much quieter East Entrance. While you can skip the long lines, you will need to drive long distances to reach the most popular sites (for example, the drive to Old Faithful will take just under 2 hours). However, the advantage to the East Entrance is easy access to Lamar Valley, home to the largest population of bison in the park.
When is the Best Time to Visit Yellowstone? 
Although Yellowstone National Park is open year-round, the best months to visit are April, September, and October. During these months, the temperatures are still nice, but you have the ability to avoid the large crowds that descend on the park during the summer months. Park attendance can easily exceed one million visitors each month during the peak season.
Generally, most people avoid Yellowstone during the winter. During this time, the roads can be hazardous (and, in some cases, closed).
In addition, the park receives an average annual snowfall of about 150 inches. You will also need to dress in layers as the temperatures rarely exceed 20 degrees Fahrenheit. This kind of weather can make for a miserable experience if you are unprepared.
Is it Safe to Walk in Yellowstone? 
It is generally safe for people to walk around Yellowstone National Park as long as they are aware of the potential dangers that tourists can face.
Most of the key attractions in the park are easily accessible from parking areas. When visiting geysers and hot springs, pay close attention to warning signs and stay on the designated trail.
The ground close to hot springs can be brittle, causing people to fall into a hidden cavity or pool of boiling hot water. For this reason, many of the trails have special wooden walkways to allow people to view the geothermal features up close without putting themselves in danger.
Yellowstone is home to some of the largest mammals found in North America, including bears (both black and grizzly), wolves, elk, and bison. But, of all the animals, bears are the most dangerous.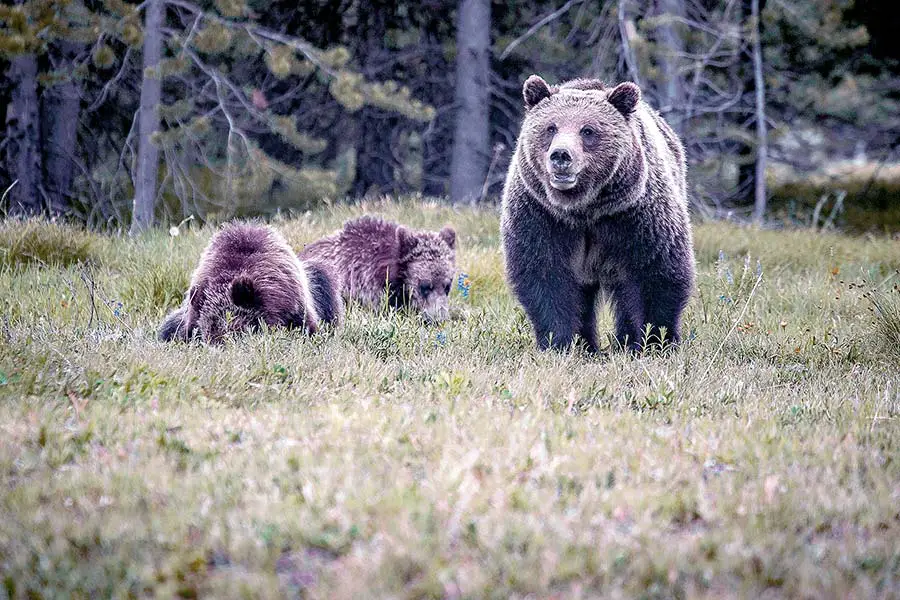 They come in frequent contact with people as they encroach on picnic and camping areas searching for a meal. As a result, there are dozens of close encounters with an average of one attack each year. However, there are a few tips to follow to minimize the risk of a bear attack:
Clean up and put away food that can attract bears.

Make lots of noise when hiking. The noise will let bears know you are there, and they will likely avoid you.

If you are planning long hikes away from large groups of people, you might consider buying bear spray at a local outdoor supply store.
Other wildlife to watch out for are elk and bison. While not directly aggressive toward humans, they are massive creatures that will charge people if they are startled or trying to protect their young.
Wolves are mostly elusive and will generally keep their distance from humans. However, if you spot any of these animals, feel free to enjoy watching them from a distance.
Is Yellowstone National Park a Supervolcano?
Yellowstone National Park is well-known for its abundance of geothermal features, including hot springs and geysers. These elements are a result of a massive volcano that lurks under the surface. Officially known as the Yellowstone Caldera, the volcano is classified as a supervolcano.
Supervolcanoes are massive volcanos that are capable of producing enormous eruptions compared to typical volcanoes. While scientists disagree about the true definition of a supervolcano, it's estimated that there are about a dozen of them worldwide.
The Caldera measures 43 miles wide and 28 miles long. While the volcano itself isn't visible to visitors, the outline of the location can be found on the official park map. As you drive around the park, you'll quickly realize how big the Yellowstone Caldera really is.
Scientists have identified that there have been at least three significant eruptions in its history. Fortunately, scientists have been monitoring the underlying magma chamber and have found that the risk of eruption during our lifetime is extremely unlikely.
Preparing for Your Yellowstone Roadtrip
While there is limited lodging within the park, most visitors choose to stay outside the park. Therefore, it's always best to enter the park early to avoid the long lines that can form at the entrances. Arriving early at the park will also help you get the best parking spots at the major attractions.
Be sure to bring along food and water for your trip. There are a handful of shops and gas stations available in the park if you forget something, but it's much easier to bring your own supplies. If you are traveling with kids, make sure they have toys or activities to keep them entertained in the event that you get stuck in traffic.
When preparing your itinerary, always assume that the driving time between sites will take longer so you don't over plan and feel rushed. It's impossible to see everything in the park even if you visit for several weeks, so don't stress yourself out trying to get to every part of the park.