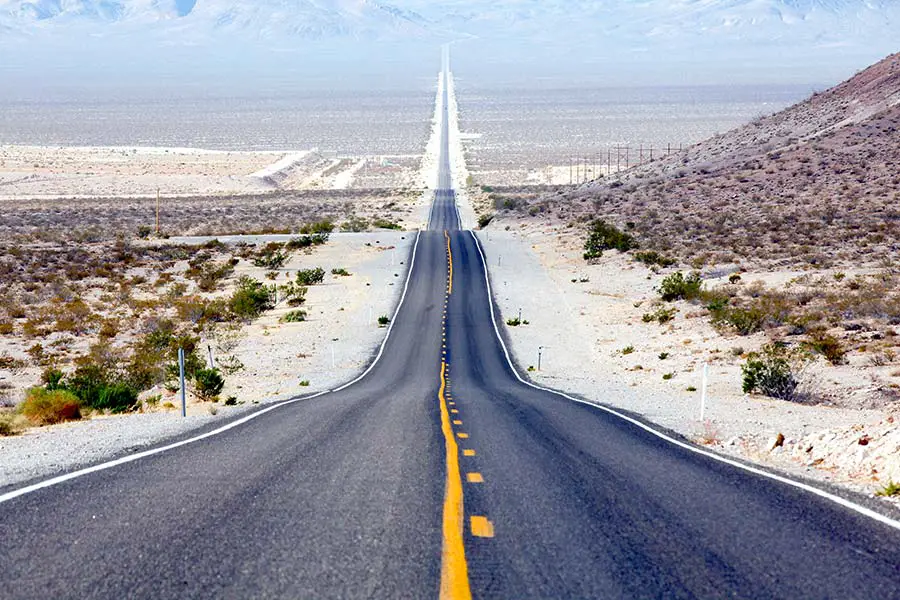 When most people picture California, they imagine sweeping ocean views and palm trees. However, California has many different landscapes, including one that experiences the most extreme and barren conditions on the planet — Death Valley. While the name is less than welcoming, many people visit this location each year to explore the unique desert landscape. Travelers considering the trip often want to know; can you drive through Death Valley?
You can drive through Death Valley. There are hundreds of miles of maintained roadways that give visitors access to the many sights and attractions that Death Valley offers. Be sure to carry along plenty of water and food, share your route with family, and use common sense while visiting the park.
Driving through Death Valley can be quite an adventure. However, the park service recommends that visitors come prepared to deal with the extreme temperatures. Continue reading for further information on what to bring, top things to see, and important safety tips.
Driving in Death Valley
You can enjoy the desolate beauty of Death Valley all from the comfort of your air-conditioned car. Death Valley is 140 miles long and runs north to south near the Nevada and California state borders. This patch of desert is known for brutally dry and hot conditions that are some of the most inhospitable on the planet for humans. Despite this, approximately 1.3 million people visit Death Valley each year to check out its unique landscapes.
Unless you are on a guided tour, the only way to navigate the park is by car. The valley has more than 300 miles of paved and a few hundred miles of maintained dirt roads. Some visitors might be tempted to put their 4-wheel drive to use, but the park service prohibits driving off designated roads. The most popular drive is the Badwater Road which is off US 190 at Furnace Creek. Travelling Badwater Road should take about an hour and a half round trip.
Vehicles entering the park are charged an entrance fee of $35. The entrance fee is included for visitors who have the America the Beautiful pass.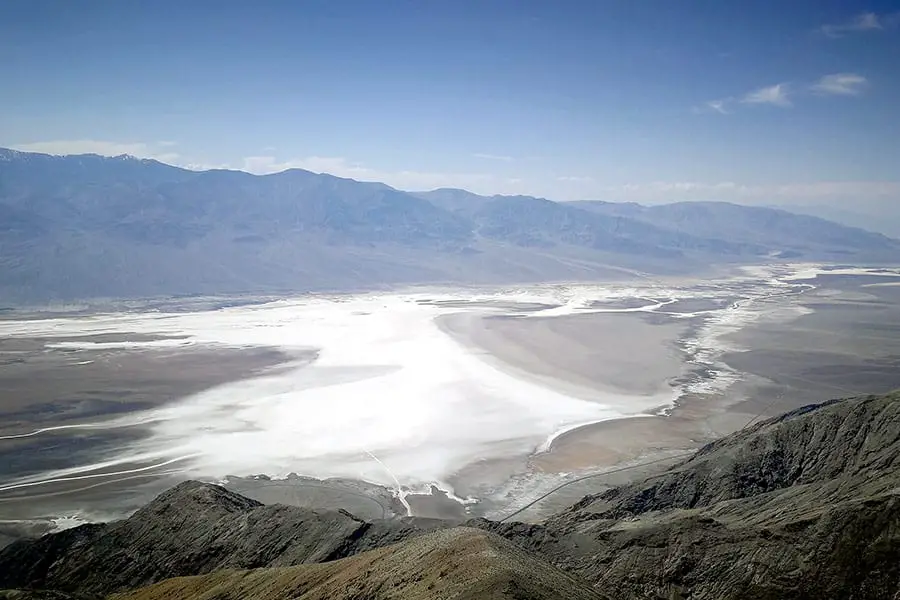 Points of Interest in Death Valley
Despite being a dry desert, there are numerous different landscapes to observe during your trip. It's impossible to see the entire park in one trip (which covers over 3 million square miles), so don't try and see everything. The following are some of the most popular things to see from the road:
Dante's View

 – This viewpoint is considered one of the best scenic overlooks in the entire park. The best element of this stop is that you can drive right up to the lookout without having to hike a long distance. 

Dante's View

 sits at an elevation of 5,575 feet and overlooks the Badwater Basin.

Wildflowers 

– If you are visiting during the spring (between February and April), you might catch the otherwise dull-colored landscape exploding with the color of native wildflowers. The best places to find flowers are along Badwater Road, Green Valley Road, Death Valley Road, and Titus Canyon Road.

Ghost Towns

 – Several ghost towns are located in and around Death Valley. These abandoned towns are a great way to get a glimpse of what life was like in the Western days. 

Rhyolite

, located just outside of the park near 

Beatty, Nevada

, is considered the best-preserved.

Sunrise and Sunset 

– Visitors are likely to catch spectacular sunsets and sunrises as they attempt to avoid the hottest times of the day. The best places to see a sunrise or sunset include Dante's View, Zabriskie Point, and the 

Mesquite Flat Sand Dunes

.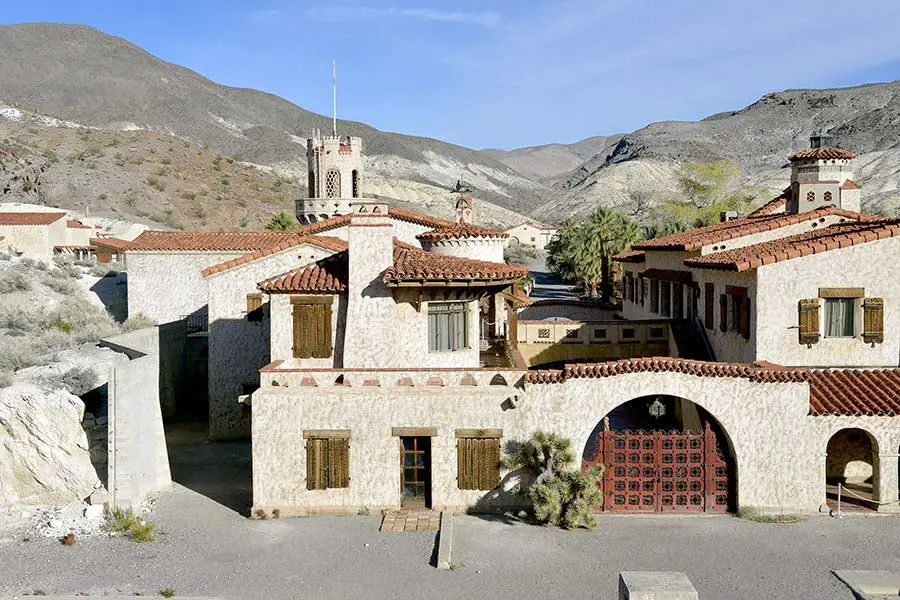 Is It Safe to Drive Through Death Valley?
Driving through Death Valley can be perfectly safe as long as you are prepared and use common sense. Cars equipped with air conditioning can help keep passengers cool and comfortable while driving around the park.
The park service suggests that you stay on paved roads during the summer months (when cars are most likely to overheat or break down). They also recommend that you pack 2 to 4 liters of water per person per day (more if you are planning on doing strenuous activities like hiking).
Visitors should be on the lookout for signs of heat-related illnesses such as heat exhaustion and heatstroke. If you feel ill, seek shade (or a cool environment like an air-conditioned car) and drink plenty of water. Seek medical care immediately if someone in your group is experiencing nausea, vomiting, severe headache, loss of consciousness, or shortness of breath.
Road Trip Answers Fun Fact: Rising out of the desolate landscape of Death Valley is a Spanish-style castle, (photo above) known commonly as Scotty's Castle. Businessman Albert Johnson built the castle during the 1920s. Johnson was "lured" to the area by Walter Scott with a gold mining scam, and the two remained friends. Johnson agreed that Scott could live his remaining days at the castle.
Other Posts of Interest
Tips for Traveling Through Death Valley
Since it is one of the hottest and driest places on Earth, safety is essential when traveling through Death Valley. Therefore, visitors should be sure to plan ahead and pack some key essentials before heading into the park.
Have a Plan

 – Visitors are encouraged to do their research and create a planned route. Then, share your route with someone who isn't traveling with your group so that rangers can retrace your steps in the event of an emergency.

Stay on Marked Roads

 – There are hundreds of miles of paved roads throughout the park that are well maintained. There are also many unpaved, dirt roads that are okay to drive on as long as they are marked. Visitors should avoid unmarked roads entirely. Many of these routes have sharp rocks that can easily puncture a tire and leave you stranded.

Inspect Your Vehicle

 – Make sure that you inspect your vehicle's tires and fluids before venturing into Death Valley. You should also ensure that you have a full tank of gas. There are gas stations within the park at Furnace Creek and Stovepipe Wells, but the prices are usually very high. If you do break down, stay with your vehicle and wait for someone to come by.

Stock Up on Supplies

 – Be sure to pack plenty of food and water. It's better to pack too much than run out. It's also wise to have a first aid kit since you could be several hours from the nearest hospital.

Avoid the Heat

 – This is easier said than done. However, visitors should avoid hiking in the middle of the day when temperatures are the highest. You should also take safeguards to protect yourself from the sun, including sunscreen and a hat.

Don't Rely on Cell Service

 – Cell service won't be available in most parts of the park. So instead, grab a paper map from the ranger station to help with navigation. Non-cellular-based GPS should also work.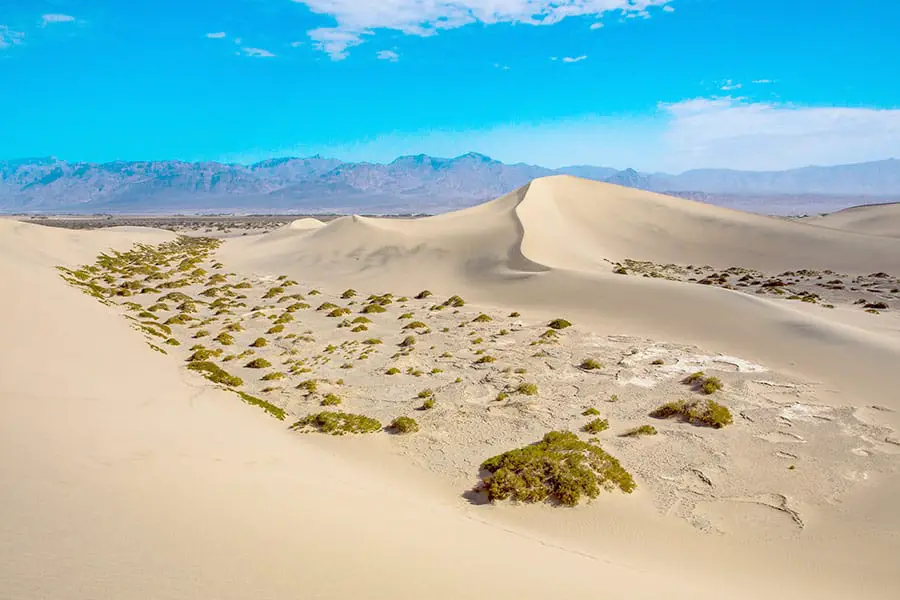 What is the Best Time of Year to Visit Death Valley?
Because of the extreme heat in the summer months, the best time to visit Death Valley is during the winter (between November and March). However, it's important to note that nighttime temperatures can drop below freezing during the winter. The record low temperature recorded in Death Valley was in December 1990, when the temperature fell to 22 degrees.
If you do visit during the summertime, you can avoid the high temperatures by planning all hiking and activities during the early morning when temperatures are the coolest. Keep in mind that the low humidity in Death Valley can make the temperatures feel cooler than they actually are, so remember to drink lots of water no matter what.
Are Snakes Common in Death Valley?
There are several potentially dangerous animals that are found in Death Valley, including snakes, scorpions, black widow spiders, bees, coyotes, and mountain lions.
The good news is most of these creatures can be avoided. It's important to note that Death Valley is home to three different types of venomous snakes (the desert night snake, the California lyre, and the rattlesnake). However, encountering snakes, venomous or non-venomous, is extremely unlikely.
Visitors are advised to avoid feeding any animals and use caution when placing their hands or feet anywhere. Snakes, spiders, and scorpions can hide in tight spaces, such as cracks in rocks that are not easily visible to people.
Can You Camp in Death Valley?
There are many places to camp in and around Death Valley. Check the National Park Service website for information.
People looking to camp will need to arrive early as the campsites are available on a first-come, first-serve basis. The only exception is the Furnace Creek Campground, which takes reservations between October and April. Seven of the nine campgrounds have water available. In addition, all of them have restroom facilities (either flush or pit-style toilets).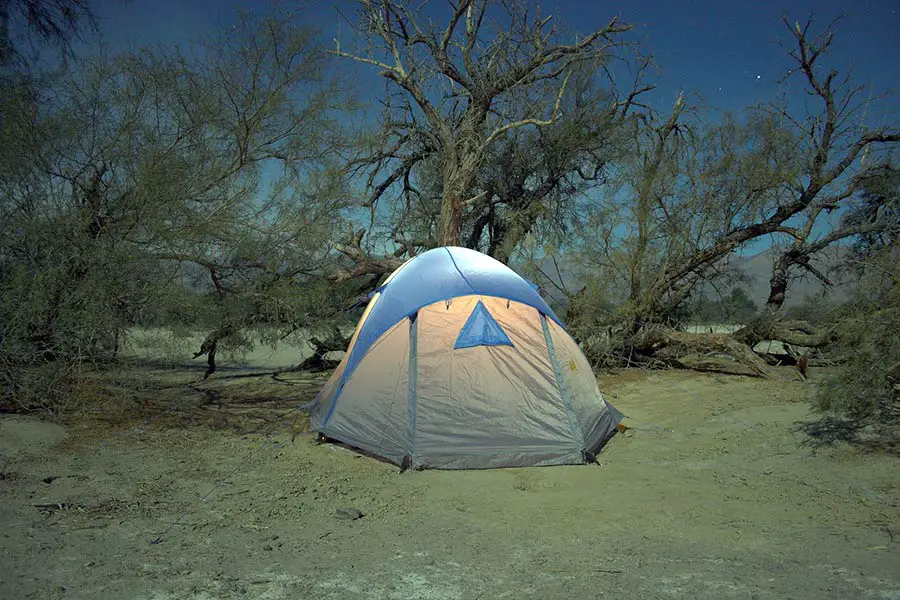 Campers should take the temperature into account when planning a camping trip. For example, evening temperatures in the summer months can stay in the 80s to 90s even through the night, which can be uncomfortable for some people. On the other hand, winter temperatures can drop below freezing, so additional blankets and warm clothing may be needed.
There are four hotels or inns within Death Valley National Park for visitors looking to stay in more civilized accommodations.
Does It Ever Rain in Death Valley?
Death Valley is known for being an extremely dry desert basin. The lack of rain results from its unique location to the east of four major mountain ranges (most notable are the Sierra Nevada and Panamint Ranges). These mountains help prevent storms and precipitation from reaching Death Valley.
Each year, Death Valley gets no more than ten days of rain, accounting for about 2.2 inches of precipitation. Most rainy days fall between the months of December to March, with February being the wettest month. However, even in February, the average rainfall is only 0.52 inches. So while visiting Death Valley requires some planning, it's unlikely for visitors to have to plan around the weather.
Does It Ever Snow in Death Valley?
Snow in Death Valley is extremely rare. While temperatures do occasionally dip below freezing at night in the winter, the low levels of precipitation make snow almost impossible. According to the National Oceanic Atmospheric Administration (NOAA), snow was observed in Death Valley only once in recorded history. The snow, which was reported in January of 1922, measured half an inch deep.
Snow can be seen outside of proper Death Valley. There are several mountains within Death Valley National Park that are tall enough to get snow in the winter. Telescope Peak, which is the tallest in the park, measures 11,043 feet and is covered most of the year.
Driving Safely Through Death Valley
Before planning your trip, be sure to understand the risks and dangers that exist within Death Valley. The last thing that you want is to have a medical emergency or car trouble that could have been avoided. On the other hand, taking the time to prepare requires little effort and can significantly enhance your experience when visiting the hottest place on Earth.