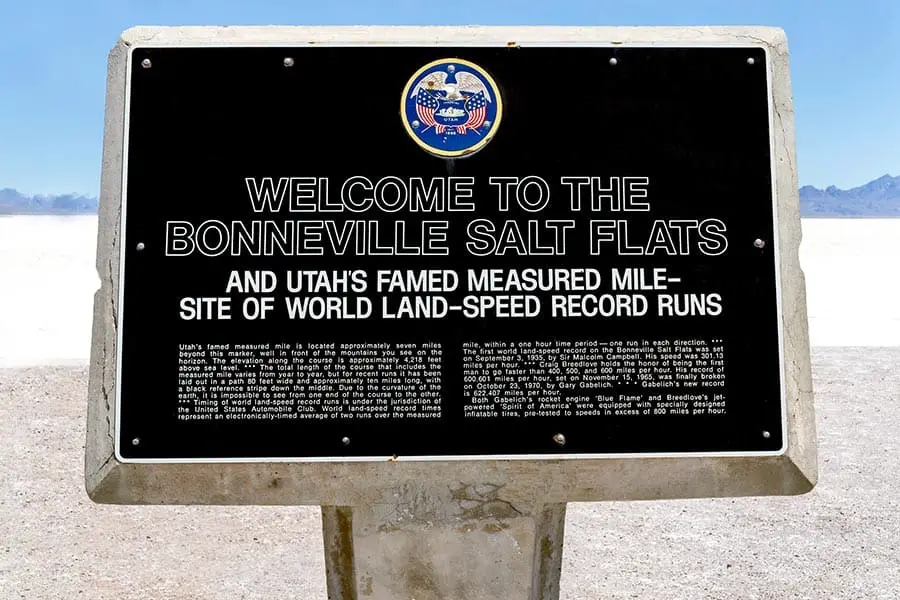 Car enthusiasts of all stripes will likely be familiar with the Bonneville Salt Flats. This famous, remote, 300,000-acre expanse is an excellent place for drivers to push the limits of what they and their machines can do. But can anyone drive on the Bonneville Salt Flats?
Anybody with a vehicle can drive on the Bonneville Salt Flats. They are open to the public, and there's no fee to enter. However, the salt flats are desolate and can have hazardous conditions at times. Therefore, drivers should plan ahead before heading out for a day of fun on the flats. 
So what makes the salt flats such a great place to race? Can you go there year-round? Are there speed limits? Can you just drive onto the salt for free? Read on to learn the answers to these questions and more.
The Bonneville Salt Flats: A Driver's Paradise
The Bonneville Salt Flats is just one of the amazing natural formations that can be found in Utah. About 12 miles long and 5 miles wide, the salt flats cover a lot of area: about 300,000 acres. By comparison, Manhattan Island in New York is approximately 14,000 acres in size. So you could fit about 21 Manhattans into the Bonneville Salt Flats.
As the name suggests, the salt flats are… well, flat. Being vast, empty, and flat, the Bonneville Salt Flats are an excellent place to drive. In good conditions, you can experience the joy of driving in a whole new way while out on the flats – no traffic, no lights, no erratic people changing lanes directly into your path – just you, your car, and the open plane of the salt flats.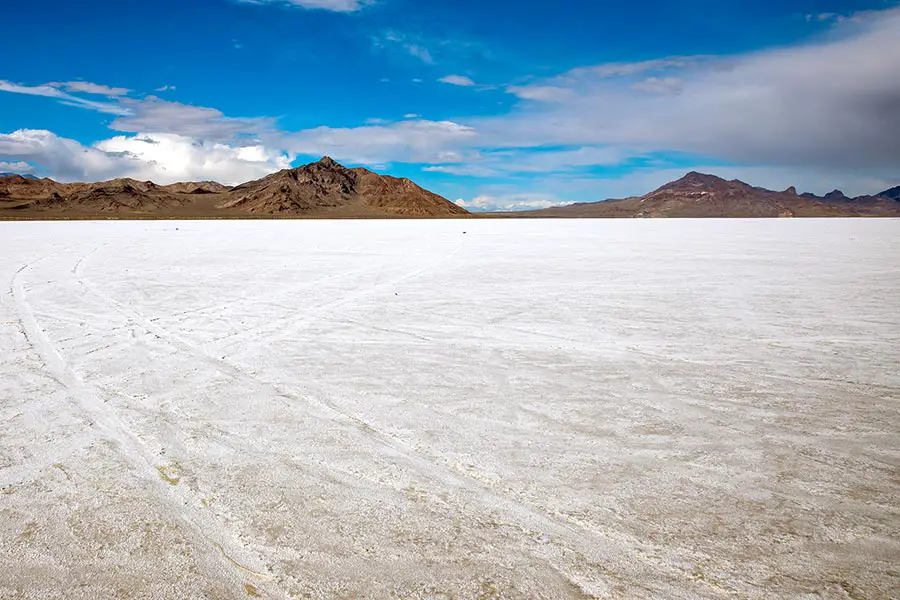 So, where did the Bonneville Salt Flats come from? Thousands of years ago, the area that is now the salt flats was an enormous lake. Geologists believe that this lake was about the same size as modern-day Lake Michigan. In fact, the lake system that created the salt flats is the same lake system that eventually became the Great Salt Lake – which is located more than 100 miles away.
As time slowly marched along, this colossal lake dried up. The water evaporated more quickly than it was replenished by rain, eventually drying into nothingness. The gradual demise of the lake left behind the salt pan that we now call the Bonneville Salt Flats. The flat topography and other local conditions have kept the salt flats barren and desolate and made them a perfect place to push cars to their limits.
Despite the emptiness of the flats, the surrounding area is quite beautiful. The Bonneville Salt Flats are located in the spectacular landscapes of northwestern Utah, close to the border with Nevada. There are hills and mountains within sight of the salt flats.
While the salt flats might feel very remote, they're not actually that isolated. The nearest major city to the flats is Salt Lake City, which is about two hours east of the salt flats. While it feels very remote, the salt flats are within minutes of the nearby towns of Wendover and West Wendover. There you'll find hotels, restaurants, and other amenities.
Unique Vehicles on the Salt Flats
The salt flats are a famously good place to test concept vehicles and vehicles built for speed. While Bonneville is famous for fast cars, people bring all kinds of vehicles to the Bonneville Salt Flats. You'll find custom roadsters, engine conversions, and even streamliners – check out this streamliner that got up to 411 miles per hour. There are cars burning gas, cars burning jet fuel, cars made from drop tanks… you will encounter amazing vehicles on the salt flats.
Motorcyclists love to ride on the salt flats. Bikers will chase speed, trying to outrun famous bikers like Burt Munro. You're likely also to see plenty of air traffic: helicopters, drones, and airplanes have all been seen on the salt flats. Pilots like to land their planes there as a unique aviation challenge.
Getting to the Salt Flats
To get to the Bonneville Salt Flats, get on I-80 and take Exit 4. Signs for the Speedway will guide you to the salt flats. There is a parking area on Leppy Pass Road, and from there, you can simply drive out onto the salt.
So, can anybody just drive out onto the salt flats? Yes! You can literally just drive out onto them. You don't need special permits or training: if you can get your vehicle to the salt flats, you can drive it on them.
There's no fee to enter the Bonneville Salt Flats. However, participating in a race will require fees from whichever organization is sponsoring the race. If you venture out onto the flats, be aware that much of the salt flat is a relatively thin layer of salt over a thick base layer of mud. Exercise caution and be sure that the flats are completely dry, as getting stuck in the mud would be a bummer.
Road Trip Answers Fun Fact: In October 1997, a land speed record was set by ThrustSSC, a British jet car developed by Richard Noble, Glynne Bowsher, Ron Ayers, Jeremy Bliss, and driven by Andy Green. The jet-powered car achieved an incredible speed of 763.035 mph at Black Rock Desert, Nevada, becoming the first car to officially break the sound barrier of 761 mph or 1100 feet/second.
Other Posts of Interest
What Time of Year Can You Drive on the Bonneville Salt Flats?
You can drive on the Bonneville Salt Flats year-round, but be aware that some seasons are better than others. The winter months are generally not great for driving. It tends to be very cold, and after storms, the surface conditions become muddy and treacherous.  
It's no wonder, then, that summer is the most popular time to visit the salt flats. Summer brings some fantastic special events to the salt flats. Speed Week, a special event where people race customized cars on the flats, happens every August. There are also archery competitions, and endurance runs on the salt flats during the summer months.
While summer is the best time to drive on the Bonneville Salt Flats, be aware that rainstorms can cause areas of thick mud, which can be difficult to discern until you get stuck in them. If you get stuck, it may be expensive and complicated to have your vehicle towed out. So play it safe: don't drive on the salt flats if there has been rain within about 48 hours.
Pro Tip: if visiting the Bonneville Salt Flats during the summer months, pack basic heat survival supplies. Temperatures can exceed 100 degrees, and the sun is blisteringly hot. This list of supplies is an excellent place to start.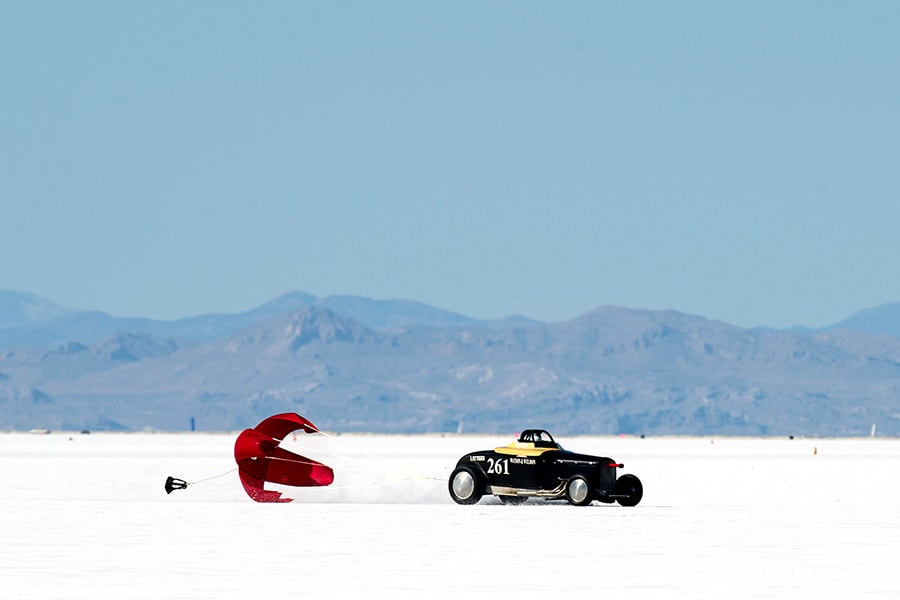 Is There a Speed Limit on the Bonneville Salt Flats?
If you've been dying to know what your car can really do, head to the salt flats. There is no speed limit on the salt flats – you can go as fast as you can go. In 2021 at Bonneville, a vehicle named Speed Demon achieved a speed of 466.29 miles per hour! The car is so fast that it needs a drag parachute to slow it down.
However, if you're really going to push your vehicle to its limit, bring basic mechanical supplies and consider having friends follow in a separate vehicle just in case. You can even bring your drone.
Can You Camp on Bonneville Salt Flats?
Camping, including RVing, truck-tent camping, and primitive camping, is not allowed on the Bonneville Salt Flats. You can, however, camp on nearby land owned by the Bureau of Land Management. Bring boondocking supplies, but also consider bringing a telescope or a good camera: the starscapes over the desert are eerie and beautiful.
Why are Salt Flats Good for Racing?
The main reason that the salt flats are so good for racing is that they are vast, empty, flat, and covered with a smooth and hard surface. Speed runners need a lot of room to get up to speed and then to decelerate; a drag strip or traditional racetrack won't work for that purpose. Even if you're not a speed runner, testing the top end of your car is best done on a long, flat straightaway. The Bonneville Salt Flats are ideal for this kind of driving.
Other kinds of racers like the Bonneville Salt Flats too. R/C aircraft enthusiasts bring remote-controlled jets to Bonneville for the same reason as speed racers and motorists: the vast flatland is an ideal place to push their machines to the limit. Pilots of full-size planes also enjoy putting their machines to the test out on the salt flats.
Professional racing on the salt flats is a fantastic thing to see. Whether you like classic automobiles, motorbikes, or even streamliners, you're going to find something of interest out on the flats. If you're planning a trip to the salt flats, going during a race can be an enjoyable experience.
Bonneville: A Must for Any Driving Enthusiast
Whether you're a racing or driving enthusiast or just someone who likes exciting experiences, you'll find the Bonneville Salt Flats to be a fantastic place to drive. The endless white-salt desert and the rugged mountains nearby provide a stunning visual experience. The Bonneville Salt Flats are the perfect place to take a scenic drive or push your car to its limits.