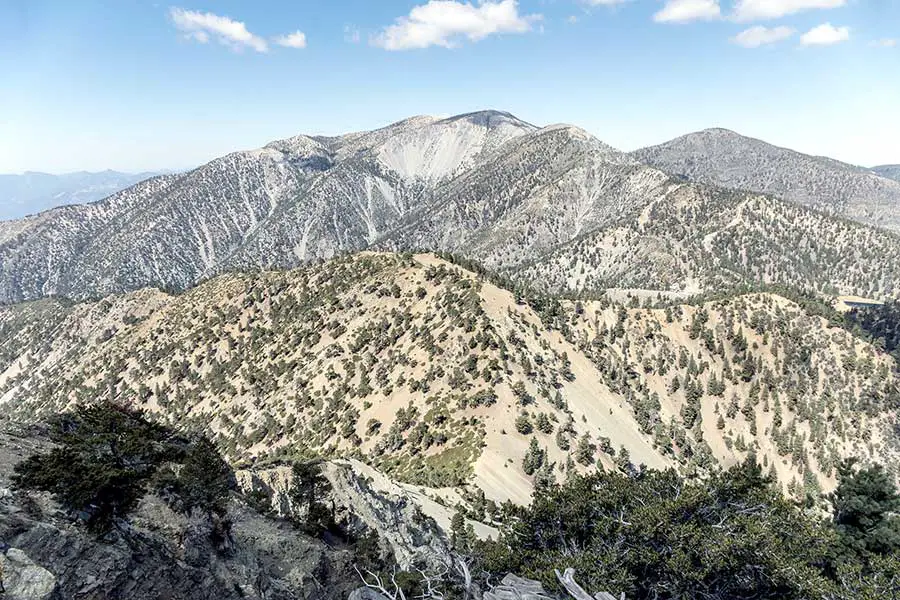 Nature lovers visiting Los Angeles will likely look for an opportunity to escape the hustle and bustle of America's second-largest metropolitan area. One popular spot is the iconic Mount Baldy. Getting to the mountain requires a car, but you might be wondering if you can actually drive to the summit?
You cannot drive to the top of Mount Baldy in California. While a well-paved road goes up Mount Baldy, unfortunately, you can't reach the summit by car. The highest elevation visitors can reach by car is 6,500 feet (the total mountain elevation is 10,066). You can then take the chair lift to 7,800 feet.
You'll want to plan ahead before driving up Mount Baldy to ensure that the roads will be open and you have the appropriate parking passes. Continue reading for more information about what you need before you leave, road conditions during the winter, and when you should go.
Mount Baldy – Can You Drive to the Top?
There are many mountains that you can drive part way up or even to the top of in the United States, including Mount Washington in the Northeast, Pikes Peak in Colorado, and Mount Baldy in California, to name a few.
Mount Baldy (officially named Mount San Antonio) is the highest peak in the San Gabriel Mountains. This mountain is highly visible from downtown Los Angeles and is a recognizable natural landmark. Situated only 45 miles from Los Angeles, the mountain marks the boundary of San Bernardino County and Los Angeles County. Mount Baldy is a popular location to visit for hiking and winter activities like skiing and snowboarding.
The mountain stands at 10,066 feet above sea level. Visitors can't drive to the top of Mt. Baldy, but they can drive part of the way up the mountain via Mount Baldy Road. The road dead-ends at Mount Baldy Resort parking lot, which sits at an elevation of 6,500 feet. A chair lift is available to take people higher up the mountain to 7,800 feet. To reach the true summit, you must hike the rest of the way.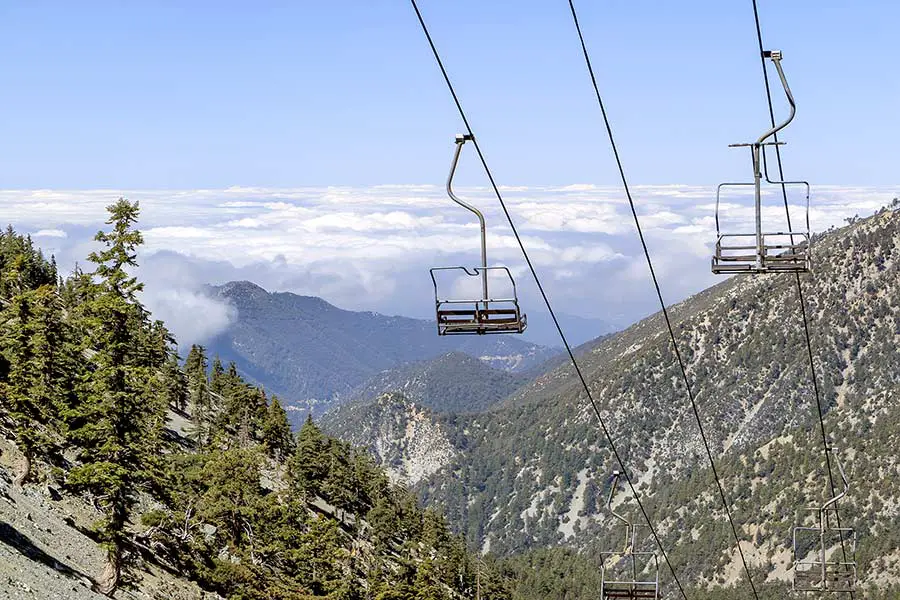 There are two main trails that go to the summit. The first trail is the Baldy Bowl or Ski Hut Trail and the second is the Devil's Backbone. Devil's Backbone is considered an easier hike despite its name as you only have an elevation increase of 2,200 feet (compared to over 4,000 for the Baldy Bowl Trail). In either case, both trails are strenuous and should only be attempted by people who are physically fit.
The road itself is well paved and open to the public most of the year (except in extremely bad weather). The lower portion of Mount Baldy Road is an easy drive with gentle curves. There is one section that contains several sharp corners but is relatively safe.
The drive itself isn't all that long. The entire length of Mount Baldy Road is a little over 13 miles and takes about 30 minutes in good weather. You will find a handful of places to get snacks or a meal along the way. However, there is no fuel on the mountain, so be sure to fill up your tank before hitting the road.
There is parking available at Mount Baldy Resort and also at the trailhead near Manker Campground. While the road itself is free to drive, some areas may require a parking pass which costs $5 and can be purchased at a local convenience store.
RVs are permitted on Mount Baldy Road. There are a few campgrounds that allow for RV parking overnight. Be sure to check the campground's website as there could be length restrictions. No overnight parking is allowed in the trailhead parking area.
Road Trip Answers Fun Fact: The fastest hiking ascent of Mount Baldy was an hour and 23 minutes to cover the 6.5-mile trail.
The views from the top of Mount Baldy are genuinely spectacular. Because of the lack of trees, on a clear day, you may be able to see the City of Los Angeles (35 miles to the west), the surrounding San Gabriel Mountains, the Mojave Desert (about 60 miles to the east), and the Pacific Ocean (50 miles to the southwest).
Other Posts of Interest
Is the Road Up Mount Baldy Open Year-Round?
The road up Mount Baldy is typically open year-round. However, during strong snowstorms (usually in December or January), the road might be closed for safety reasons.
In the past, dozens of motorists have gotten stranded on the roadway and required rescue. Therefore, it's best to wait until the storm has passed and the road crews have had time to clear the roads properly.
Are Chains Required on Mount Baldy Road?
Mount Baldy Road is free of ice and snow most of the year. However, during the winter months, chains could be required by CHP (California Highway Patrol) if the snow is bad. CHP will usually set up checkpoints starting at 5,000 feet since snow rarely falls below this level. However, it is possible for snow to fall at lower elevations. In some cases, 4-wheel drive is an acceptable alternative to having chains.
Alerts for drivers are usually posted online by Mount Baldy Fire Department. Be sure to check out their website or social media the day of your trip to check road conditions and current requirements.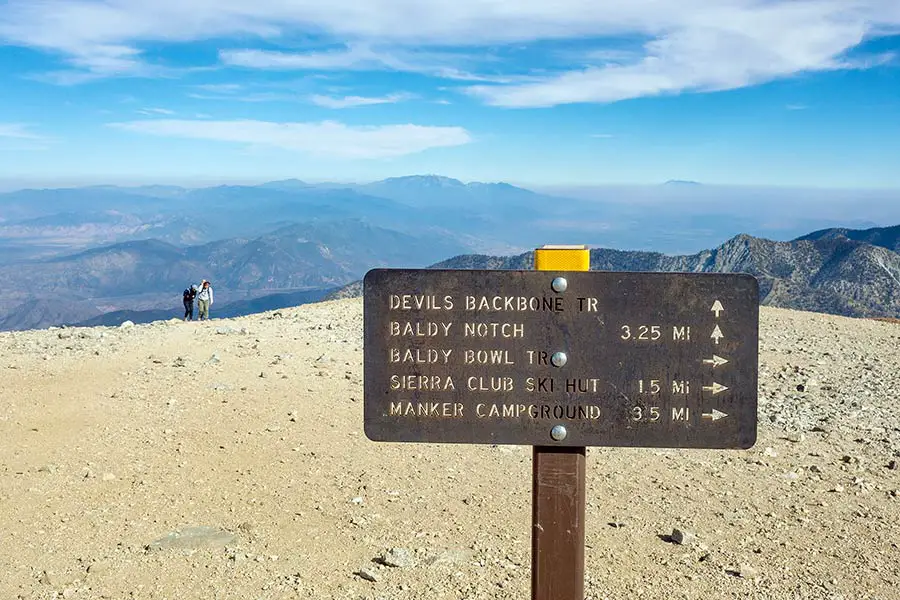 Is the Drive Up Mount Baldy Scary?
As the road reaches higher elevations, there are quite a few sharp corners and switchbacks. Some of these curves do have steep cliffs to the side, and some don't have guardrails. However, Mount Baldy Road isn't generally hazardous or alarming.
Drivers are encouraged to take their time up the mountain, especially in inclement weather. Slow drivers should pull off the roadway to let faster cars pass them. This route is also popular with hardcore cyclists, so be sure to watch out for them and share the road.
Is There Snow on Mount Baldy Year-Round?
While Mount Baldy does get snow each year, the level of snow varies depending on the temperature and amount of precipitation it receives. In dry years, it's possible for the mountain to receive under 20 inches of snow. On the other hand, rainy years can result in snowfall that exceeds 100 inches. On average, the mountain gets about 3 feet of snow each winter season.
Unless the mountain receives an unusually high amount of snowfall, the snow can melt quickly. Most snowfall occurs from November to February (with most in December and January), which coincides with the rainy season in Southern California.
What is the Best Time of Year to Visit Mount Baldy?
Mount Baldy can be visited most of the year. However, the best time to visit depends on what activities you enjoy. If you head to Mount Baldy to hike to the summit, you should plan for warmer months (typically June through October). Mount Baldy is also a popular winter destination for locals since it is home to the closest ski resort to Los Angeles.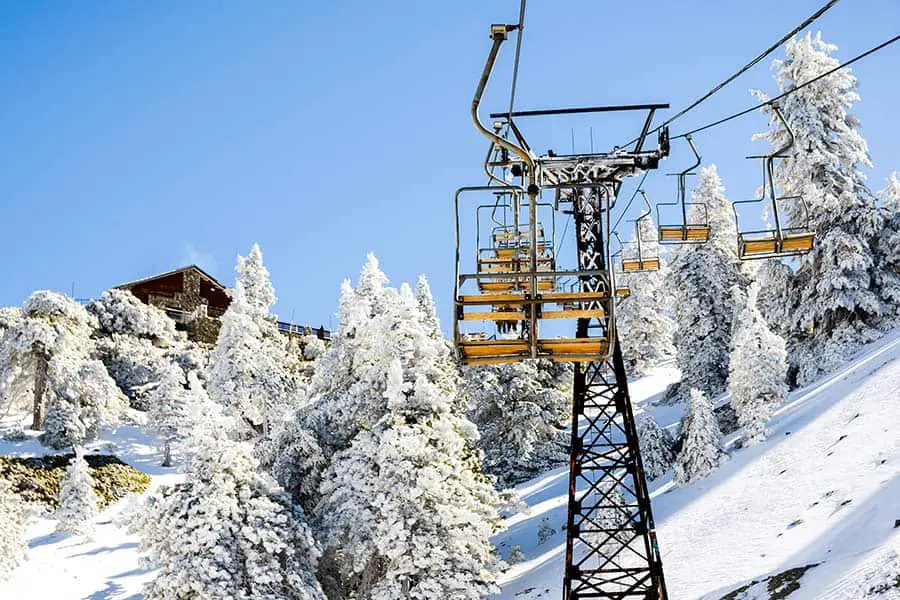 The resort, which is appropriately named Mount Baldy Resort, has a chair lift that can take visitors up to 7,800 feet for a scenic ride. This lift operates all year and is a popular way to get near the summit without a grueling hike.
Is Mount Baldy a Volcano?
According to geologists, Mount Baldy was formed as a result of pressure from the infamous San Andreas Fault that pushed the earth skyward, forming the San Gabriel Mountains.
Although California does have a handful of inactive volcanoes, Mount Baldy is not one of them. There are only seven identified active volcanoes in the state that have erupted in the last 3,000 years.
Is Mount San Antonio the Same as Mount Baldy?
Yes, Mount San Antonio is the same as Mount Baldy. Mount San Antonio is the tallest and most recognizable peak looming over downtown Los Angeles. Because of its height, there are no trees on or around the mountain's summit.
This lack of vegetation resulted in Mount San Antonio earning the local nickname of Mount Baldy (sometimes referred to as Old Baldy). The treeless summit is even more prominent in the winter when it is covered with snow.
Planning Your Trip Up Mount Baldy
The great thing about driving up Mount Baldy Road is its easy accessibility to civilization. It's a great way to access amazing mountainous landscapes without traveling too far from an urban environment.
Before leaving on your trip, make sure that you have plenty of gas and snacks to take for the drive. If you plan to hike the many trails on Mount Baldy, dress appropriately and wear comfortable hiking shoes or boots.