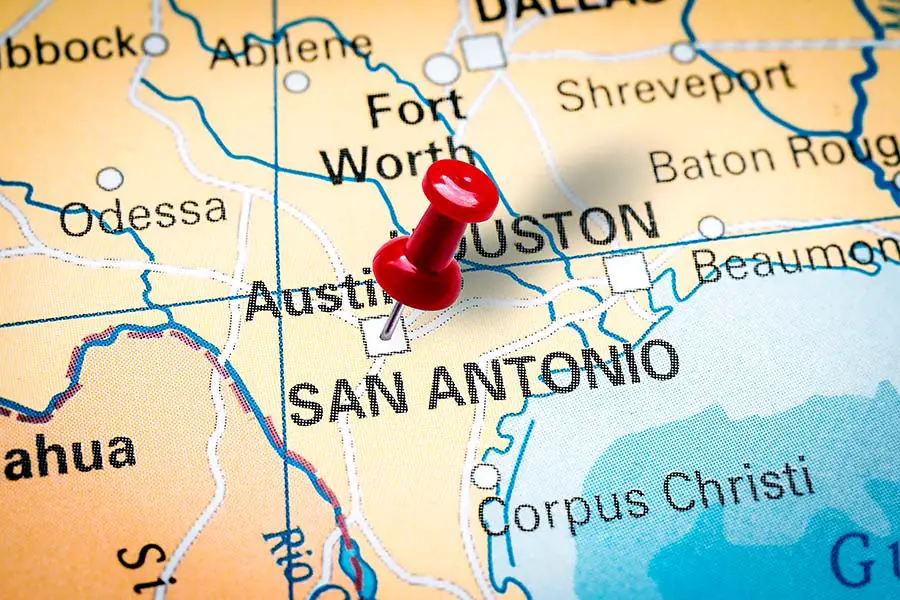 The Lone Star State is one of the best states to visit. Two of the most fun and exciting cities in Texas are San Antonio and Austin. But which is better to visit, San Antonio or Austin?
San Antonio and Austin are both great cities to visit, but we think San Antonio is better to visit if you're traveling with the family or younger kids. Austin is a better city if you're traveling with adults or older kids. However, both of these cities are great destinations for a road trip. 
Which city has better entertainment? How's the traffic in San Antonio versus Austin? Which city is more family-friendly, and which city is safer? Find out the answers to these questions and more in the following sections.
San Antonio vs. Austin
While San Antonio and Austin are only about 80 miles apart, both cities boast distinctive personalities and attractions that make them splendid options for a road trip. Let's get to know the cities before we compare them.
San Antonio: Alamo City
Located about 200 miles west of Houston and 274 miles south of Dallas, San Antonio is the heart of southern Texas. Home to almost 1.5 million people, San Antonio is the seventh-most-populous city in the United States. It's also quite large: the city covers about 500 square miles of land.
If you're coming to San Antonio from the north, you should take I-35, which runs from Minneapolis through Wichita, Oklahoma City, Dallas, and Austin, before entering San Antonio. If you're approaching from east or west, take I-10, which passes right through San Antonio as it runs from Jacksonville to Los Angeles.
What to Do in San Antonio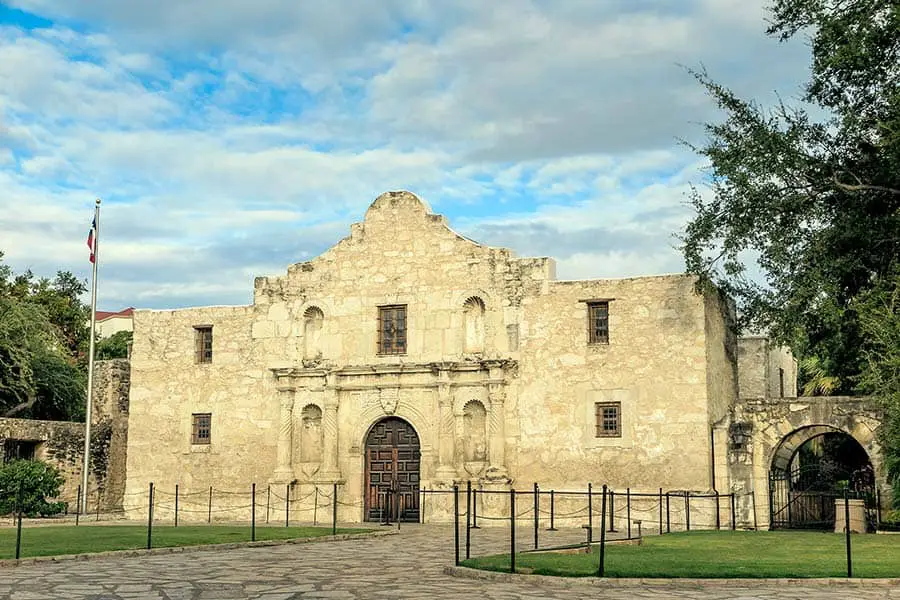 The most famous attraction in San Antonio is the Alamo, the site of Davy Crockett's last stand against the Mexican army. The battle at the Alamo happened during the Texas Revolution of 1835-1836, when American settlers and Tejanos (Hispanic Texans) seceded from Mexico. While the Alamo was ultimately lost, the battle inspired the rebels to fight harder, which resulted in Texas' independence from Mexico and the formation of the Republic of Texas in 1836.
After you visit the Alamo, walk the quarter-mile or so to the San Antonio Riverwalk. The Riverwalk is a 15-mile long trail featuring restaurants, shops, and attractions that follows the San Antonio River through town. If you're footsore, there are water taxis and boat tours that run the length of the riverwalk!
San Antonio has great theme parks if you're traveling with the kids. Six Flags San Antonio is known for having fun rides and a family-friendly atmosphere. Sea World San Antonio has inspiring nature exhibits and also features Texas' tallest, longest and fastest wooden roller coaster! After Sea World, venture over to the Aquatica waterpark next door to beat the San Antonio heat.
Austin: Keeping Texas Weird
Austin is smaller than San Antonio, with an area of about 320 square miles and a population just shy of a million people. It's located approximately 166 miles west of Houston and about 195 miles south of Dallas. Austin is the capital of Texas, and the Texas Capitol Building is an excellent place for a photo op.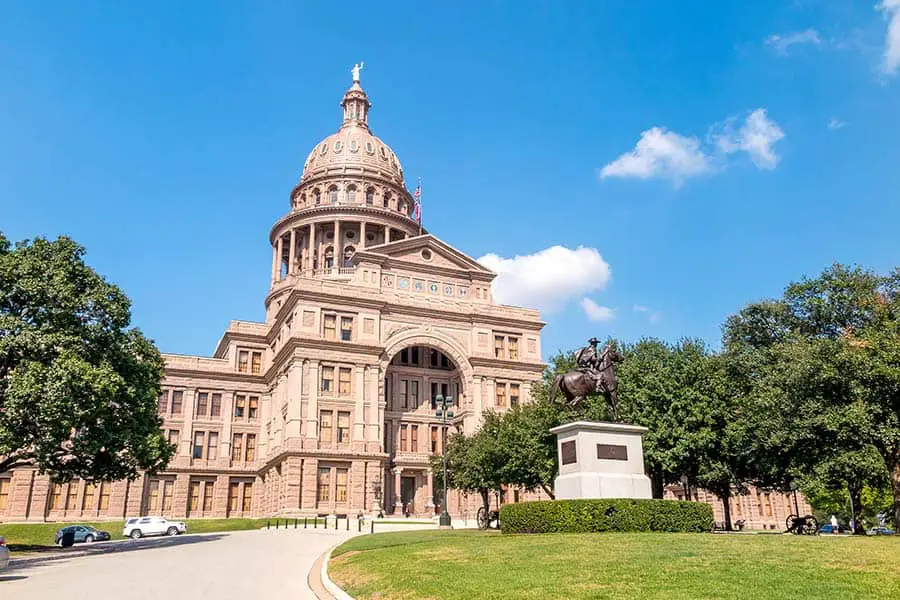 Known for being hip, fun, and quirky, Austin's slogan is "Keep Austin Weird." And weird it is! Austin's unique culture attracts people from all walks of life and creates plenty of thriving coffee shops, music houses, cocktail bars, and other interesting establishments.  
Despite its importance and popularity, Austin is challenging to get to. The only major interstate that runs through the city is I-35, which is notoriously congested. Other routes into the city include US-290, which runs east-west across Austin and stretches all the way to Houston, and US 183, which approaches Austin from the northwest and continues southeast toward Corpus Christi.
What to Do in Austin, Texas
When you go to Austin, you should participate in the city's quirky culture. There are dozens and dozens of fun bars, coffee shops, and local restaurants and stores to explore in downtown Austin. The city is also home to plenty of great places to see live music.
Outside of downtown, one of Austin's quirkiest attractions is Haunted ATX. This mobile ghost tour takes you around Austin in a van or – if you spend a few extra bucks – a hearse! You'll visit haunted locations and maybe even get to see some paranormal activity.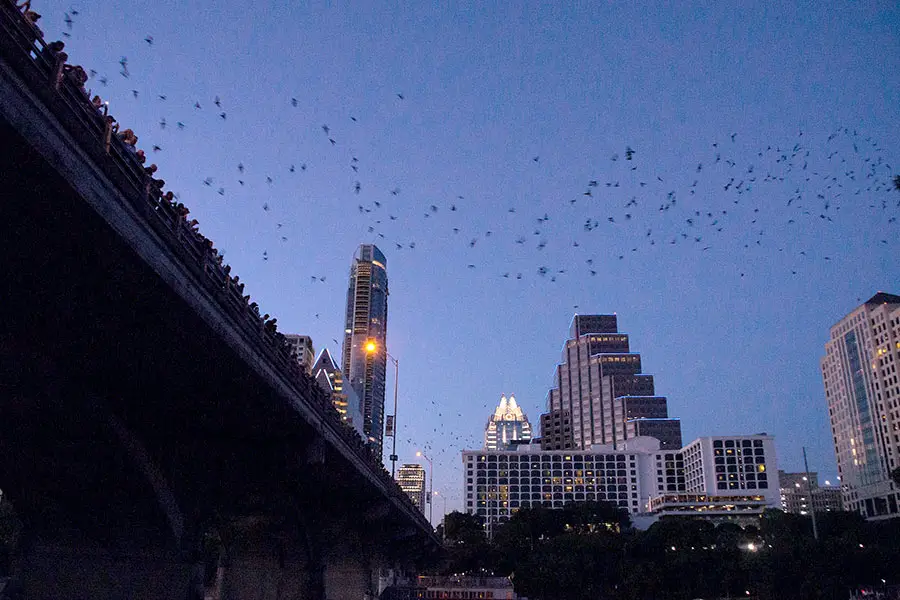 Another spooky sight to see in Austin is the Austin Bats. There's a colony of about 1.5 million Mexican free-tail bats that live underneath the Congress Avenue Bridge in downtown Austin, and every night between early March and early November, the bats emerge from their warren beneath the bridge to hunt for bugs. Watching more than a million bats take flight at sunset is a truly unique experience.
If ghosts and bats aren't your vibe, you should head to the Museum of Ice Cream, a colorful, playful place where kids and kids at heart can relax, unwind, and enjoy some lighthearted fun. You'll need to buy tickets ahead; admission prices vary with season and time.
Finally, no visit to Austin is complete without a stop at the Capitol building. You can take guided tours or, if you just want the photo op, take a selfie on the Capitol steps. Then, close out your day with a relaxing visit to the Lady Bird Johnson Wildflower Center, a massive garden that features thousands of native flowers, plants, birds, and trees.
Road Trip Answers Fun Fact: The city of Austin was called Waterloo until 1839, when it was renamed in honor of Stephen F. Austin, the Father of Texas.
Other Posts of Interest
San Antonio vs. Austin
Now that we know a little about what makes each city unique, let's compare them. We'll look at each city's weather, traffic, food, costs, and safety to help you decide which to visit.
Weather in San Antonio and Austin
The weather in San Antonio is generally warm. While it's only 80 miles north of San Antonio, the weather in Austin is strikingly similar: both of these fine cities endure blistering summers, with temperatures often in the 90s and heat indexes in the 100s.
If you visit Austin or San Antonio during the summer, prepare for the heat. Bring sunscreen, a hat, sunglasses, water, and maybe even a little fan. Despite the fact that summers are busier, the best time to visit Austin or San Antonio is between November and April. During this time, daytime temps are pretty pleasant, with cool evenings and little to no rain.
Texas-Size Traffic in San Antonio and Austin
San Antonio is terrific to visit, but traffic in this beautiful city is ranked the 5th worst in Texas. You should anticipate heavy traffic during rush hour times and during the tourist season of May to October.
Sadly, Austin is no better. Indeed, the city is infamous for having terrible traffic, and commuters in the city endure chronic congestion and slowness. So whether you're visiting San Antonio or Austin, we'd recommend that you plan your route ahead of time and build extra time into your schedule.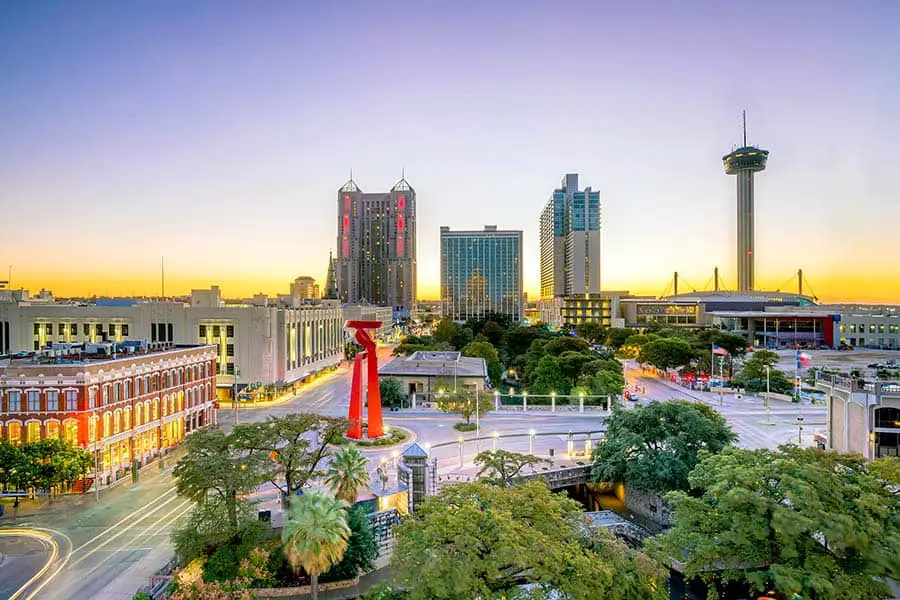 Safety in San Antonio and Austin
San Antonio is great, but it does have a relatively high crime rate. That said, if you stay in the touristy areas and take basic safety precautions, you probably will not have any problems. Austin's crime rate is lower, although it is still slightly above the median crime rate for the United States.
To stay safe in both cities, follow these common-sense safety rules:
Be aware of your surroundings.

Don't flaunt expensive goods or cash.

Lock your car and keep valuables out of sight.

Don't leave wallets, purses, phones, or keys unattended.

Keep reasonable hours. Don't be downtown at 3 AM.

Listen to your gut. If something feels wrong, leave.
Texas-Style Eats in San Antonio and Austin
Chili is Texas' quintessential dish. In San Antonio and Austin, locals love to head to Jim's Restaurants for a bowl of this Texan classic, but if chili isn't your thing, you can also find dishes like chicken-fried steak, burgers, and other great eats.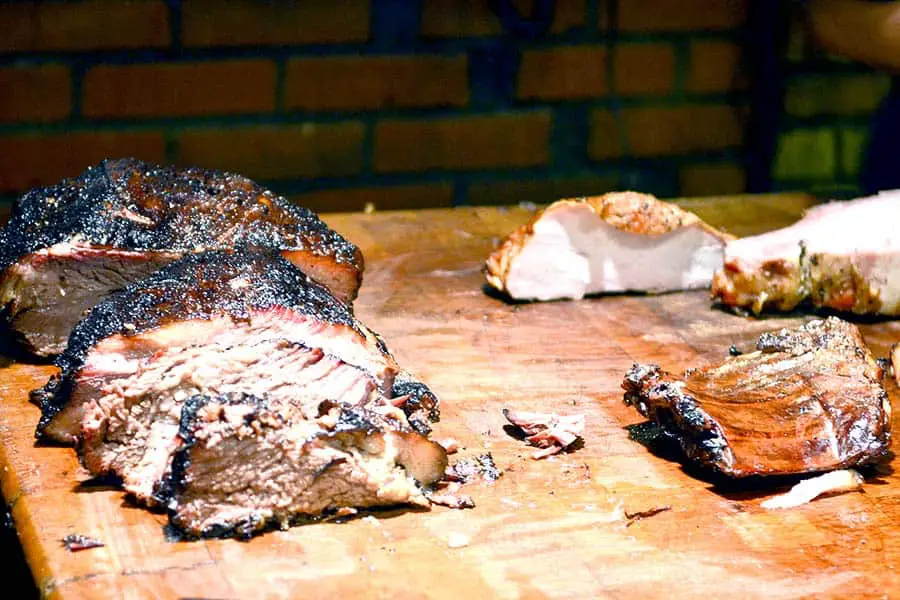 Both cities have plenty of non-chili foods. San Antonio has some of the best food in Texas, whether you're craving donuts, Asian-BBQ fusion, Mexican food, fine dining, or something else altogether. Austin's food scene is just as good – the city is home to dozens of fantastic restaurants no matter what you crave.
Pro Tip: The best donuts in Austin (and maybe in Texas) are at Gordough's Big Fat Donuts. You don't want to miss these bad boys!
Cost to Stay
Visitors to San Antonio can usually find double-occupancy hotel rooms for less than $110 a night and motels or single rooms for less. However, if you prefer a more unique stay or want to rent a whole house, there are dozens of awesome AirBnBs available in San Antonio from $150 and up.
Austin is slightly more expensive on average, but visitors can still find good hotels for around $120 a night, with motels and more frugal hotels available if you prefer. Like San Antonio, Austin has dozens of fun AirBnBs for rent, with whole-home rentals generally beginning around $160-170 a night.
San Antonio and Austin: Why Not Visit Both?
San Antonio has more family-friendly attractions such as Sea World and Six Flags that the kids will appreciate. On the other hand, the wacky vibes and unique character of Austin may be better suited for grownups or older kids. But since these cities are only 80 miles apart, you could easily visit both in one trip. Whichever city you choose, you're sure to have a Texas-sized good time on your road trip through the Lone Star State.