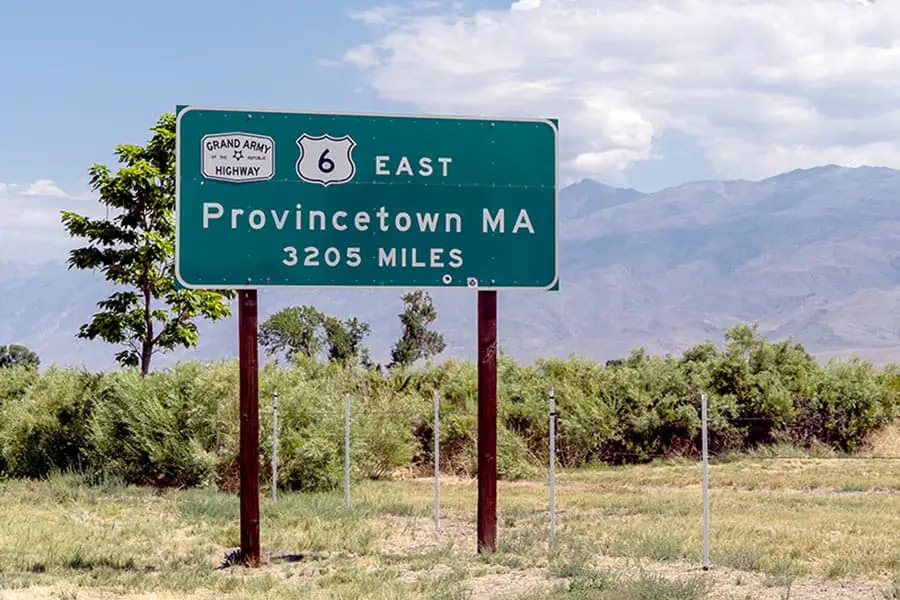 One of the most remarkable ways to see America is to take a coast-to-coast road trip. There's nothing like watching this big, beautiful country pass by as you navigate the back roads. So you may be wondering whether you can take US Route 6 coast to coast.
US Route 6 does go coast to coast, but it does not go ocean-to-ocean. US Route 6 goes from Bishop, California – near Death Valley – to Provincetown, Massachusetts. US 6 is not as popular as other transcontinental drives, but it has unique and interesting things to offer the curious road-tripper.
So what is there to see along US Route 6? When was it built? How high does the highway get crossing the mountains? Read on to learn the answers to these Route 6 questions and more.
The Skinny on US Route 6
US Route 6, also known as the Grand Army of the Republic Highway, is a classic American road-trip route. While it is not quite as long as US 20 or quite as well-known as Route 66, US 6 is a unique highway in its own right.
From its beginning in Provincetown, Massachusetts, to its terminus in Bishop, California, US 6 takes motorists through back-road America. But it's not all cows and cornfields; US 6 will bring you to classic American cities and take you into the heartland of the country.
US Route 6 criss-crosses and joins with other routes. It goes from two-lane back roads to major interstate highways and back again. The speed limit shifts with the road; you may find yourself putting along at 25 as you pass through small towns in Indiana or Iowa, only to be zooming along at 70 miles an hour as US 6 joins I-80.
US Route 6 is passable year-round. However, motorists should be prepared because the route spans many rural miles. You should bring water, snacks, chargers, basic automotive supplies like oil, flares, and a tire change kit. There are a bunch of great places to camp and experience the wilderness along US 6, so bring your outdoor gear too.
Points of Interest on Route 6
A comprehensive list of attractions would be very problematic to compile; there are many fascinating stops in farm towns and rural places that are challenging to catalog. But there are a lot of fantastic attractions along the route.
Let's begin in the high desert and mountains of the Western United States. The first major attraction you'll come across driving west to east on US Route 6 is the Humboldt-Toiyabe National Forest, located in the vicinity of Sparks, Nevada.
This fantastic nature preserve covers more than 6.2 million acres, making it the largest National Forest in the contiguous United States. US 6 also passes a back-access route to Great Basin National Park, which offers splendid dark-sky viewing and connects to US 50, the Loneliest Road.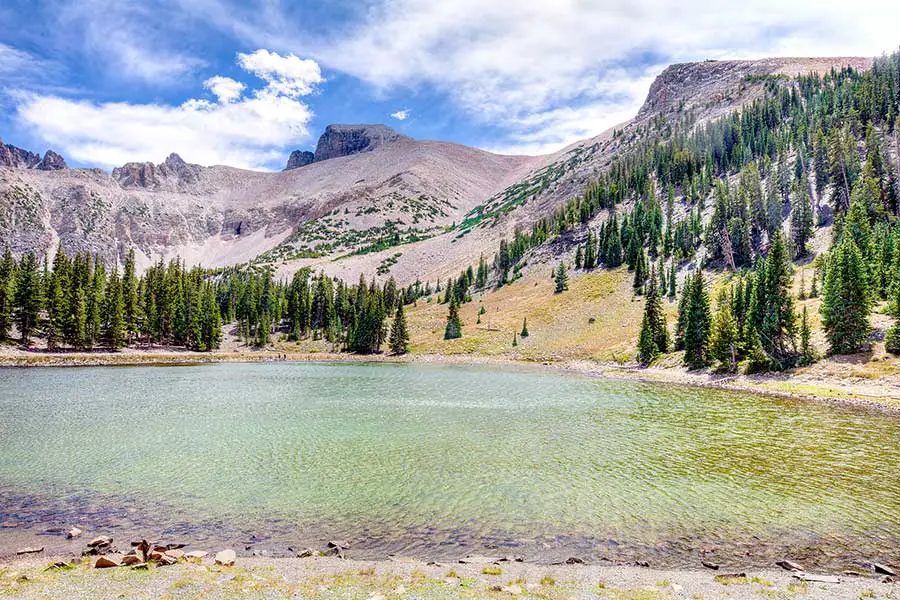 US 6 winds through Nevada and Utah before crossing into Colorado, where it eventually joins I-70 and then I-70 Business, which takes it through Grand Junction. Grand Junction has everything from mountain vistas to golf, hiking, shopping, and even some great local breweries and distilleries.
Leaving Grand Junction, the continental divide is the next major point of interest. While I-70 passes through a massive tunnel beneath the divide, US 6 takes motorists along a steep path to the top of the Loveland Pass at an elevation of 11,990 feet.
The next major attraction is the city of Denver. Whether you want to hit the clubs for some urban excitement, take a remote hike, or eat a gourmet meal, you'll find what you want in this gorgeous mountain city.
From Denver, US 6 heads into Nebraska. The first stop in the Cornhusker State is the state's capital, Lincoln. You might stop here for a show at the Pinnacle Bank Arena; your favorite band or entertainer might be playing a show at this famous venue. You can even see monster trucks there. However, if orchestral music or TED talks are more your thing than Monster Jam, check out the Lied Center For Performing Arts, or take a relaxing stroll through the Sunken Gardens.
The next major attraction on US 6 is Omaha, home to a ton of fascinating attractions. One of the best is the Joslyn Castle, the historic home of the great philanthropists George and Sarah Joslyn.
Road Trip Answers Fun Fact: In 2015, runner Aprylle Gilbert ran the entire length of US Route 6 to raise awareness for a charity. She started from the old highway terminus in Long Beach, California, and finished her run in Provincetown, averaging 30-40 miles a day!
Other Posts of Interest
Need to blow off some steam with the kiddos? Head to Omaha's Archery Games venue, where you can play laser tag and an assortment of other family-friendly fun games.
After Omaha, US 6 stays mostly rural as it passes through Iowa. US 6 eventually passes through I-80 and the Des Moines metro, which is more fun than it sounds. Bring your bikes because Des Moines boasts more than 800 miles of biking trails that criss-cross the metro area. There is also a zoo, a science center, and almost any kind of food or drink you could possibly want.
US 6 then goes back to being primarily rural until Ohio, where it enters Cleveland, home to the Rock and Roll Hall of Fame. Enjoy some neat rock relics and the amenities of Cleveland, and then buckle down for more country driving; you can enjoy the scenic views of Pennsylvania, New York, and Connecticut as US 6 meanders along.
The second-to-last major attraction of US Route 6 is the city of Providence, Rhode Island's state capital. Providence is worth a stop; it is big enough to offer almost anything a modern traveler could want but small enough to be fun to explore. Providence's local color and culture is fun, and the area is full of interesting historical sites dating back to colonial times.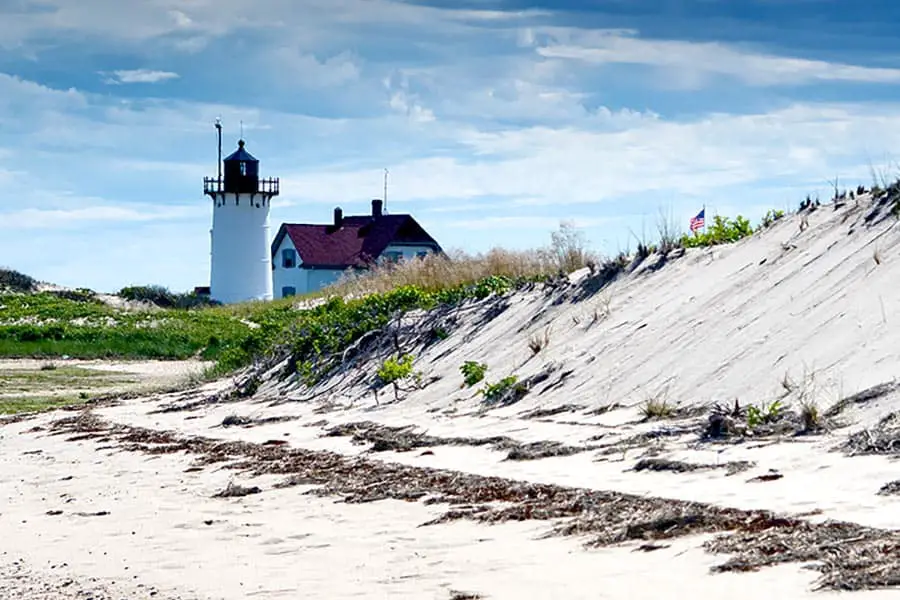 Finally, US 6 winds down to its terminus in Provincetown, Massachusetts. Located on the tip of Cape Cod, Provincetown is a beach town through and through. Cape Cod Bay and the briny waters of the Atlantic are great fun in the summer months; there's nothing like lounging in the sand after a long, transcontinental road trip.
If you prefer exploring to relaxing, check out Provincetown's attractions or head to the Cape Cod National Seashore to experience an iconic New England beachscape.
When was US Route 6 Built? 
The history of US 6 dates back to 1925, when the Joint Board on Interstate Highways developed its plan for the U.S. highway system. This plan brought America into the age of the automobile, as it organized the loose system of auto trails and local roads that existed at the time. However, US 6 was not built with any specific purpose, other than to be part of the great American highway system.
Initially, the highway was local to New England and connected New York and Connecticut. However, as the highway system evolved and expanded, the route grew to include more and more highways. By 1936, US 6 crossed the continent.
For a time, US 6 was truly coast-to-coast. It extended from Provincetown, Massachusetts, to Long Beach, California. However, in 1964, the state of California underwent a highway renumbering project, which caused US 6 to be truncated at its current western endpoint of Bishop.
While some transcontinental drives and major highways served essential functions like connecting major ports or cities, US 6 meanders across the nation in a relaxed, almost poetic kind of way. Over the decades, the individual states along US 6 have made many minor modifications to the route, just to keep it interesting.
What is the Highest Elevation on Route 6?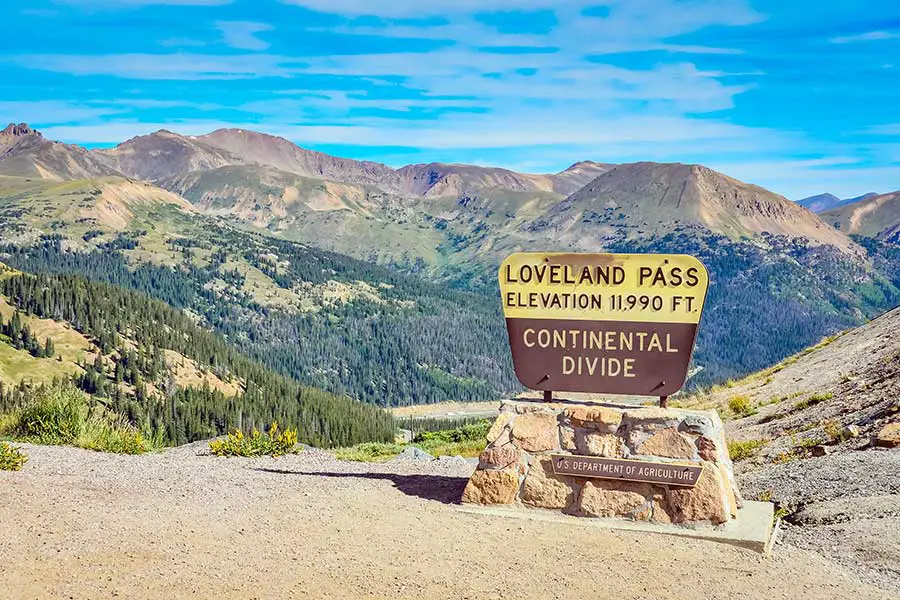 US Route 6 reaches its apex as it crosses the continental divide at Loveland Pass, at an altitude of 11,990 feet. Heading west to east, drivers on US 6 will find themselves veering away from I-70's tunnel beneath the continental divide as US 6 passes through the Arapahoe Basin, cruises past some splendid ski areas, and then begins a steep climb to Loveland Pass.
How high is 11,990 feet? It's pretty high! The FAA recommends that pilots wear oxygen if flying above 12,000 feet; you do not need oxygen per se, although you may find yourself with a minor case of altitude sickness if you're not used to being at high elevations. It's worth it, though; the altitude and the layout of the road lead to some excellent views and vantages along the route.
Is Route 6 the Longest Road in America? 
US Route 6 winds for 3,198 miles across the United States. It is a very, very long road. However, US 6 is only the second-longest road in the United States. The honor of longest road goes to US Route 20, which clocks in at 3,365 miles and takes motorists from Newport, Oregon, to Boston, Massachusetts.
Route 6: Classic America
US Route 6 might not be the most famous road, the longest road, or even the highest road, but it offers motorists a great variety of sights to see and things to do. Whether you leave the sunny shores of Cape Cod in your rearview and set out for the west or journey east across the continental divide, you'll find a road trip along US Route 6 to be an engaging and exciting experience. See you on the road.