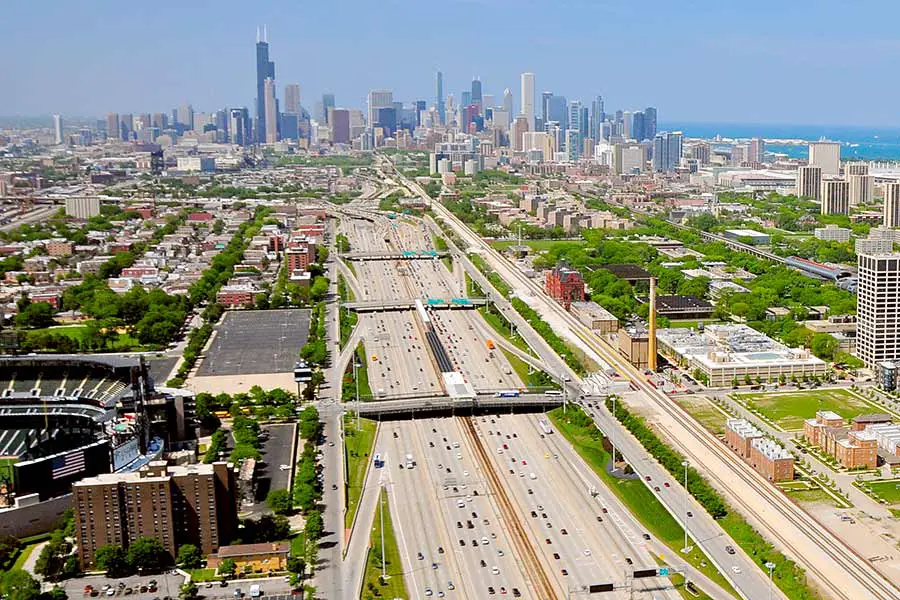 Chicago is one of America's best cities. Beautiful, engaging, and entertaining, the Windy City is a great place to live or visit – but rumor has it that it's a bit tricky on the roads. So is it hard to drive in Chicago?
Driving in Chicago is not hard, but it requires attention and patience. The roadways can be very congested, and the city has many one-way streets. Construction and adverse weather can cause significant slowdowns. However, if you stay alert, keep calm, and plan ahead, you can certainly drive in Chicago.
So what time is rush hour in Chicago? Can you bypass the city? Is it hard to find parking in the city? Read on to learn the answers to these questions and more.
Driving in the Windy City
Driving presents unique challenges in any major city. First, there are a lot of cars on the road, and many people driving may be visitors who don't know their way around. Plus, in a lot of cities, the road infrastructure was designed and built in an age when there were fewer people and smaller cars.
While Illinois drivers, in general, are polite and attentive, Chicago drivers are an exception. Allstate, the insurance company, ranks Chicago drivers as 133rd-best out of drivers in 200 cities. 
Drivers in Chicago can sometimes be aggressive: people make abrupt lane changes, unexpected turns, and other sudden maneuvers. As a result, you may find yourself being tailgated, cut off, or otherwise placed in hazardous situations.
That said, any experienced driver can handle Chicago driving. Staying alert and planning ahead are the keys to success when driving in Chicago. We recommend:
Plan your route ahead of time. Look at a map, and be sure to familiarize yourself with the major roads around your destination. Be aware that there are many one-way streets.

Don't rush. Rushing leads to mistakes and accidents.

Check for 

road closures and congestion

 before you get to the city.

Never

commit an unsafe driving maneuver to follow the instructions of your GPS. It will recalculate directions if you miss a turn or an exit. 

Watch the road, not your phone.

Plan for parking ahead of time. Street parking, especially in the winter, is hard to find. Use a service like 

Google Maps

 to find parking near your destination, and then walk.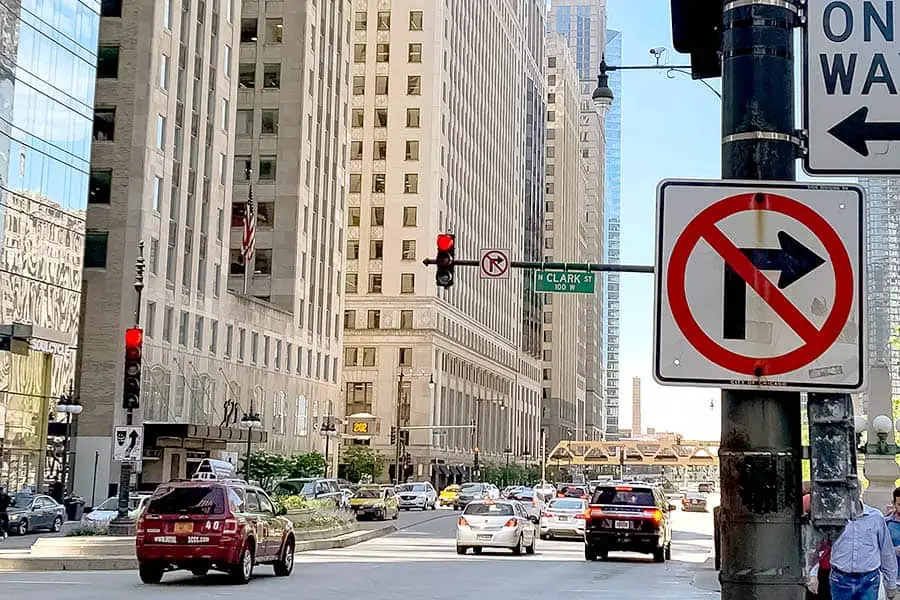 Law Enforcement 
Who patrols the roads in Chicago? On surface roads, the Chicago Police Department is in charge. They are unlikely to initiate a traffic stop in the city unless you are doing something truly egregious. On the highways, the Illinois State Police are on patrol, and they will pull you over for speeding, operating an unsafe vehicle, or being aggressive.
You'll also find Cook County Sheriff officers and various other law enforcement agencies in the Chicagoland area. However, if you are driving in a reasonable way, you don't need to be concerned about law enforcement in Chicago. Speed traps and other "gotchas" are uncommon.
The Grid
Chicago's streets are laid out in a well-designed grid pattern. The "origin point" of the grid is the intersection of State and Madison. This point is where Chicago's numbering system begins, and it is also the reference point for cardinal directions. From here, streets are numbered in 800- increments, with about 8 blocks per mile.
Highway Names
In Chicago, you're likely to hear people referring to the highways by their formal names, not their numeric designations. Nobody says, "Oh yeah, it was awful on I-90 today." Instead, you'll hear, "Aw man, the Dan Ryan was a wreck this morning!" This also applies to radio traffic reports, so it's good to know the names of the roads when you're heading to Chicago.
Road Trip Answers Fun Fact: Chicago's grid system is considered the best of all major cities. This design is partly due to good urban planning and partly due to Chicago's relatively flat terrain.
Just for fun, some of the roads even have more than one name! And some of the named sections encompass more than one road. Of course, the interplay of names and numbers gets complicated, but Travel Midwest has an excellent reference guide.
Other Posts of Interest
Tolls
Many of the highways through Chicago are tolled. If you plan on driving any highway route through Chicago, bring along small bills and change to pay your tolls. Expect to pay no less than $2.50 a toll, and if you're towing a trailer or driving a larger vehicle, expect to pay more. I-90, I-94, I-294, and I-80 all have tolls. If you have an E-Z Pass or an I-pass, you can use your transponder and skip the line at the toll plaza.
Bicyclists and Pedestrians
Chicago has a lot of pedestrian traffic and a lot of bicyclists. People who are staying in the city often find it far easier to walk or bike somewhere than to drive. Many roads in Chicago have dedicated bicycle lanes, and drivers are expected to share the road with bicyclists. Most bicyclists are experienced in city biking, but the prevalence of bike-rental services means that some inexperienced tourists and visitors can be found biking along the road.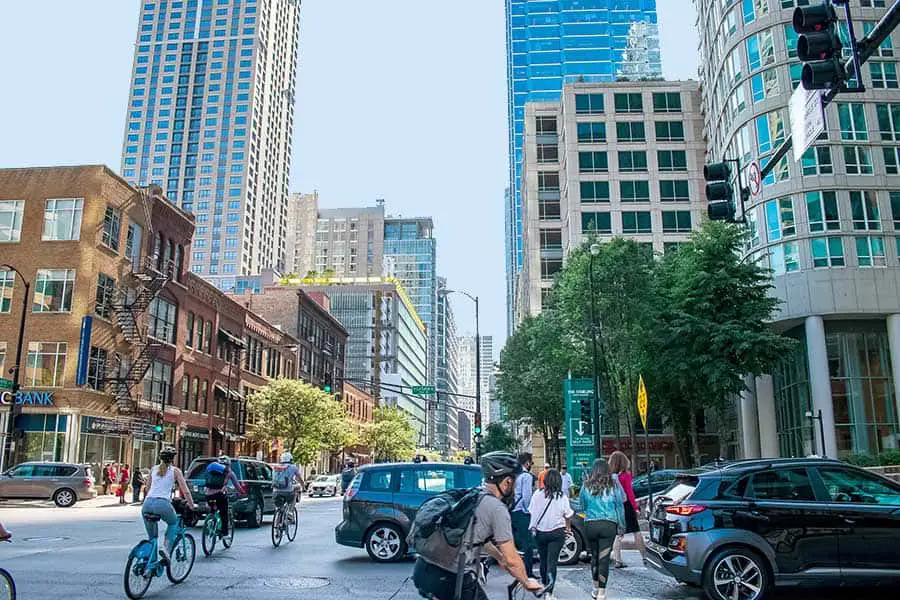 Many parts of the city, especially downtown and the Magnificent Mile, have heavy foot traffic. Pedestrians have the right of way in Chicago, but for the most part, they wait on crossing signals and stick to crosswalks. That said, keep your eyes open for the occasional jaywalker or distracted tourist.
What Time is Rush Hour in Chicago?
Chicago's rush hour encompasses the hours of 7 to 9 AM and 3 to 7 PM. If you are planning to travel through the city, it's best to avoid these windows if at all possible. If you're visiting the city for a day trip, you might consider parking outside the city and taking the train – Chicago has an excellent transit system. There are also a ton of ride-share drivers who will be happy to drive you around.
What is the Best Route Through Chicago?
The most direct route through Chicago is to stay on I-90, which will bring you through the heart of the city. I-90 spans from O'Hare International Airport southeast across the city to East Chicago and, eventually, Indiana. However, because I-90 is a direct route through the city, it is usually very congested.
Is There a Bypass Around Chicago?
To bypass the city, take I-290 and I-294. If you're traveling west-to-east through Chicago, take I-290 from Schaumburg and then connect to 294 near Elmhurst. 294 eventually connects to I-94, I-80, and I-65.
If you're going east-to-west, pick up I-94 near New Chicago, Indiana, and follow it west. Signs for 294 and 290 will direct you around the city. Follow signs for Schaumburg; I-290 connects back to I-90 there. These routes will take you through some of the suburbs and keep you out of the fray of the big city.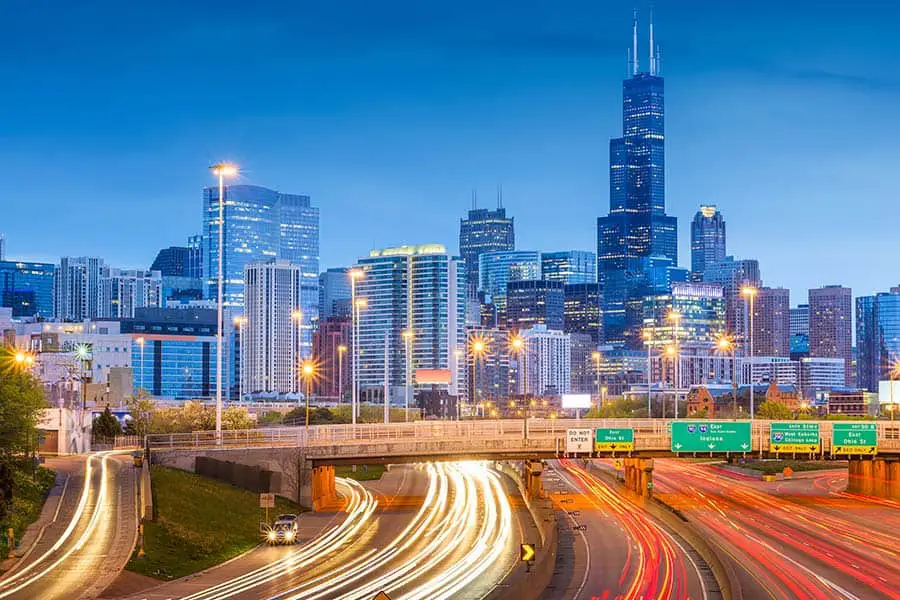 What is the Best time to Drive Through Chicago?
The best time to drive through Chicago is any time but rush hour! The morning and evening rush can be pretty intense, with tens of thousands of commuters filling the highways in every direction. If you are passing through the city, try to time your drive so you hit the city between 10 AM and 2 PM.
What are the Busiest Routes in Chicago?
The busiest routes in Chicago are I-90 and I-94, these are major arterial highways, and they are almost always very busy. The section between Exit 55A and Exit 59C is notoriously congested. Avoid this area if possible.
On I-290, you can expect congestion between South Pulaski Road and South Sacramento Boulevard. The section of I-294 near O'Hare is also very heavily trafficked: O'Hare is one of the busiest airports in the United States, and the constant flow of freight and people in and out of the airport keeps this section of 294 busy.
Is it Hard to Find Parking in Chicago?
It is hard to find street parking in Chicago. You'll be lucky to find a parking meter or a parking spot. However, there are plenty of parking garages.
We would strongly recommend looking ahead to find parking garages near your destination. Garage parking is easier to access and keeps your car off the road and away from buses, trucks, pedestrians, and bad drivers.
Driving in Chicago: Challenging, but Not Impossible
Driving in any major city can be challenging, and even going on some roads that aren't in a significant town presents challenges.
Dense populations, popular amenities, major businesses, events, and logistics hubs are all big city features, and they all tend to attract vehicle traffic. Chicago, with its tourist-friendly shopping, beautiful architecture, fascinating history, great food, and friendly local culture, is no exception. So many people live in and visit the Windy City that it can be quite a challenging place to drive in.
However, it is not impossible to drive in Chicago. Following the basic rules of good driving – be alert, be courteous, plan ahead, don't be aggressive – will help you successfully navigate through this incredible, world-class city. In the immortal words of Jim Morrison: keep your eyes on the road and your hands upon the wheel. You, too, can drive through Chicago.